Allotment idea for Carmarthenshire council homes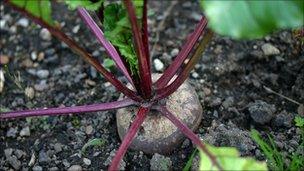 Council house tenants in Carmarthenshire may be allowed to sub-let their gardens as allotments.
The idea has been floated by a group of councillors looking at ways the authority can meet demand from people wanting to grow their own produce.
It is one of a number of options being looked at in the county.
But the Welsh Tenants Federation said while the idea was "interesting", it could be problematic as any income could affect housing benefits.
It said it would rather see councils in Wales use derelict land in their possession for allotments.
Carmarthenshire Council has five allotment sites and another five are either run by community councils or privately owned.
Many have waiting lists and the council said with the increased popularity of organic food, coupled with financial pressures facing many households, the demand was only likely to grow.
Nine new sites have been identified as potential allotment plots and are at various stages of development.
But a report to go before Thursday's policy and resources scrutiny committee says there is merit in looking at allowing council house tenants to sub-let their gardens.
It sates informal gardening swaps are happening anyway and many elderly or disabled tenants need help in maintaining their gardens.
'More work and consultation'
It says any agreement would be between the tenant and the gardener.
A spokeswoman told BBC Wales: "There is a growing demand for allotments and this is an issue we have been looking at for some time.
"If the committee decides it is something worth taking forward then more work and consultation will be needed to see if it is feasible."
Steve Clarke, managing director of the Welsh Tenants Federation, said the idea was interesting.
But he said he had concerns that any income a tenant received could affect their housing benefit.
He said there was also a practical issue of how the gardeners would access the allotments.
"We would rather see local authorities putting their efforts into turning the derelict land that they own into allotments," he added.
Last week neighbouring Swansea council said it was looking at calls to use the Vetch football ground as temporary allotments until a developer for the site could be found.
Related Internet Links
The BBC is not responsible for the content of external sites.