Marks and Spencer mirror fall injures Swansea boy, 4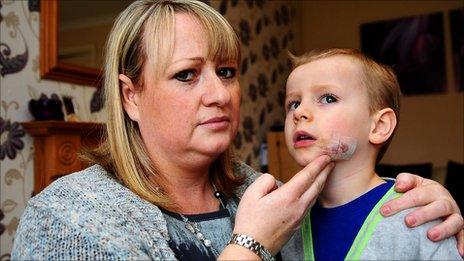 A four-year-old boy suffered cuts to his face and body when a large wall mirror in a Marks and Spencer store fell, trapping him underneath.
Adam Ballard is recovering after surgeons stitched a cut on his face following the incident at the Oxford Street shop in Swansea on Saturday.
His mother Tina said he had a "lucky escape" after the mirror shattered, leaving him covered in splinters.
M&S says health and safety is extremely important and it is investigating.
Mrs Ballard said Adam was pulling faces in the mirror - which she said measured about 4ft by 10ft (1.2m x 3m) - while they were shopping.
"He just touched it with his hand and it came off the wall on top of him.
"It happened so fast. I know it took me and other people to lift it off him. Another woman then dragged him out.
"He had this oozing wound on his face and splinters of glass in his fingers and hands.
"It was very frightening. I was checking him out - I was expecting broken bones.
"Considering what happened to him, he is a very lucky little boy."
Mrs Ballard - who also had her 18-month son Ryan with her - accompanied Adam in an ambulance to the city's Morriston Hospital.
The cut in his face was stitched by plastic surgeons under general anaesthetic and he was kept in overnight.
"He is doing well, considering," added Mrs Ballard.
"He is back home now and complaining it is itching and hurting. He has had presents off every relative we've got."
She is calling on M&S to check the safety of the wall-mounted mirrors in all its stores.
A spokesman for the high street chain said: "We extend our sympathies to the family.
"The health and safety of our customers and employees is extremely important to us and we are investigating this incident."