Former Resolven TRW staff protest over agency workers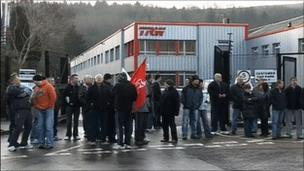 Former workers at the TRW Automotive plant near Neath have staged a protest over the hiring of agency workers.
Around 65 protesters gathered at the Resolven factory, five days after being made redundant last Friday.
They are angry at the firm's decision to use agency labour to maintain the supply of car parts while work is transferred to Germany.
But TRW said it offered staff the paid work and the offer was "declined".
The US-based company made the announcement last summer it was shifting work to Europe, saying the plant had been making a loss for several years.
Staff clocked off for the last time on last week, but several gathered outside the plant at 0730 GMT on Wednesday and stopped some deliveries.
Unite Wales regional secretary Andy Richards, said its members were "furious at this decision to call in agency staff".
"While these former workers are no longer employed by TRW, they are still Unite members and we support their protest."
In the past the union has said workers had made offers to the company to try to keep the factory open.
Lynett Jackson of TRW said: "We offered all employees the opportunity for a further four weeks of work to support some ongoing customer projects.
"The workforce declined our offer, so all staff contracts ceased last Friday.
"In order to support our customers, we have had to hire some contractors. This will be for a very limited period."
She added that TRW would have preferred to retain its original employees for the work but the firm had to take necessary steps to cater for its customers.
"Our employees have handled the challenges of the plant closure with dignity and they should be proud of the work they've done at Resolven over the years.
"As we've said before, the plant closure was a regrettable, but necessary business decision. We wish them all every success for the future."
Related Internet Links
The BBC is not responsible for the content of external sites.