Swansea 2011 Urdd Eisteddfod's fundraisers' 'struggle'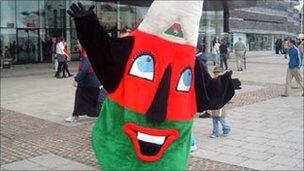 Fundraisers for the Urdd Eisteddfod say they are struggling to raise money for this year's event in Swansea.
They blame the fact that the youth festival will be held, between 30 May - 4 June, on the same site at Felindre as the 2006 National Eisteddfod.
Morriston-based fundraiser Robat Powell called for a gap of eight years between eisteddfodau in the same county.
Organiser Urdd Gobaith Cymru has already revealed local committees may not meet their funding target.
In 2006 an agreement was reached between the Welsh Local Government Association (WLGA) and the National Eisteddfod.
It was decided that all local authorities in Wales would contribute financially on an annual basis, rather than the host authority making a one-off contribution.
Three years later the Urdd accepted the same deal, but the decision to go to Swansea in 2011 was taken before the agreeement was signed.
Mr Powell commented: "Perhaps there is a little 'eisteddfod fatigue' here because we've had two major events here in four years now.
"And shortly before the National Eisteddfod in 2006, the Urdd Eisteddfod was in Margam, and a lot of Swansea people gave money to that as well so I think it's a case of 'Oh no - not again!'.
"If there was a gap of maybe eight years between each event, people would be more motivated to go for it and raise money next time."
Mr Powell said that with 22 local authorities in Wales it should be possible to create a rota taking account of the Urdd and National eisteddfodau and the Royal Welsh.
Aled Sion, the Urdd Eisteddfod director, said that since 2009 more discussions had been held between the three events in order to avoid a similar clash in the future.
The WLGA said that in the current financial situation a number of issues needed to be considered when choosing an eisteddfod site, as many areas do not have a suitable "maes" or field.
Related Internet Links
The BBC is not responsible for the content of external sites.