FoE £1bn Pembroke power station complaint examined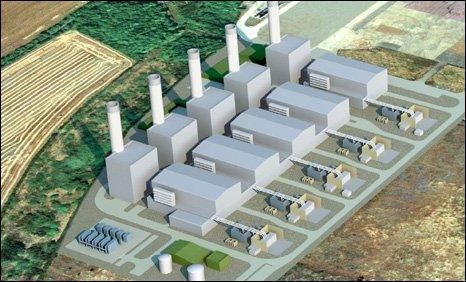 An environment lobby group's complaint over a £1bn gas-fired power station being built in Pembrokeshire is being considered by the European Commission.
Friends of the Earth Cymru (FoE) says the Pembroke plant, due to supply energy to some 3m homes, had planning consent before assessments were ready.
It wants the planning process halted for the investigation.
But developer RWE npower said it was confident the 2000 Mw plant would receive all the necessary permits.
FoE Cymru welcomed the commission asking for clarification from UK authorities over three points in its complaint lodged last June.
The lobby group believes the power station could damage marine life in the Pembrokeshire Marine Special Area of Conservation.
FoE Cymru director Gordon James said: "If the rule of law is to mean anything, the approval process for the power station should now be put on hold to allow the commission's investigation to take its course, and we have written to the Environment Agency requesting it to do so.
"Because we are not confident that the agency will give this assurance, we have also written to the Welsh environment minister [Jane Davidson] asking her to direct the agency not to proceed, and/or to call-in RWE npower's application."
In October last year Ms Davidson declined to call in an application for an environmental permit for the project and wrote to FoE saying she was "content that the Environment Agency is applying the appropriate approach".
A spokesperson for RWE npower said: "This will be the most efficient gas-fired power station in Europe and increased gas generation will allow us to close coal-fired power stations such as Didcot and Tilbury.
"RWE npower and our sister company npower renewables, have a lot of experience of building new power stations and wind farms.
"For Pembroke we are continuing to work closely with the Environment Agency for Wales to finalise the environmental permit to allow full operation of the plant when construction is complete".
Building work on the power station started in May 2009.
An Environment Agency Wales spokesperson said: "We are aware of the Friends of the Earth complaint and we will assist the UK and Welsh Assembly Government by providing any information they require from us to respond to the European Commission.
"We are considering Friend of the Earth's request to suspend the permit determination process and will respond shortly."
A Welsh Assembly Government spokesperson said: "In view of our legal role, it is not appropriate to comment".
The Department of Energy and Climate Change (DECC) declined to comment.
Related Internet Links
The BBC is not responsible for the content of external sites.