S4C protesters occupy BBC newsroom in Carmarthen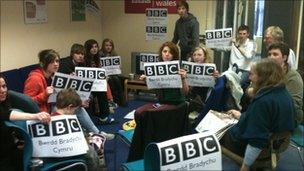 About 15 people protesting against changes to the funding of the Welsh language channel S4C occupied the BBC's newsroom in Carmarthen.
They are angry that from 2013 S4C will be funded from part of the BBC licence fee rather than the UK government.
The demonstrators continued their protest outside the office after leaving of their own accord.
BBC Cymru Wales says the decision to change the funding arrangements for S4C was made by the UK government.
Last month about 20 people staged a sit-in at the lobby of BBC Wales' headquarters in Cardiff, and another protest was held outside the Carmarthen office last Saturday.
Following that larger protest in Carmarthen, Cymdeithas yr Iaith Gymraeg - the Welsh Language Society - promised more direct action.
It has accused BBC Wales of "betrayal" because of its "co-operation with the UK government."
A BBC spokesperson said: "The UK government decided to reduce its funding for S4C as part of last October's comprehensive Spending Review, and ministers considered a new partnership model with the BBC was the best way of securing the long term future of the service.
"This proposition was put to the BBC in the context of discussions on a new licence fee settlement.
"The BBC has made clear repeatedly that it has no ambitions to take over S4C.
"The corporation is committed to an editorially independent S4C which attracts revenue from a range of sources, including the licence fee. Discussions between DCMS [the Department of Culture, Media and Sport] BBC and S4C are ongoing."
BBC officials have denied a number of allegations made by Cymdeithas.
They included a claim that the BBC has withdrawn from the Urdd Eisteddfod. BBC executives said they would still deliver extensive coverage, and were working with the Urdd with a view to partnering it.
BBC officials also said in response to Cymdeithas claims about its Welsh language websites, that it would be increasing, and not reducing, its investment in Welsh language online journalism.
The corporation's executives all BBC services, and not just those in Welsh, faced "challenging savings targets."