Botanic Garden of Wales to get £800,000 public money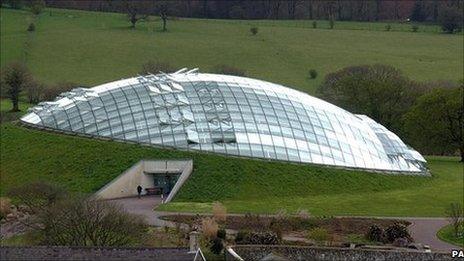 The National Botanic Garden of Wales is to receive £800,000 for the next year after a review found the only way it could function was with public money.
The funding will replace the current three-year agreement worth £1.9m, which ends next month.
The assembly government has subsidised the garden since it almost folded in 2004, four years after it opened.
The study for the Welsh Assembly Government said the Carmarthenshire garden was vital for regional tourism.
It said it was also a major contributor to the local economy and had a growing international reputation.
Following the review by PriceWaterhouseCoopers, Heritage Minister Alun Ffred Jones said the assembly government would provide £700,000 for the next financial year and an additional one-off £100,000 to maintain and improve its facilities.
The review said all major botanic gardens need subsidy and that per visitor, Kew and Edinburgh received more.
"It is only 10 years old but the National Botanic Garden is already making a vital contribution to tourism, science and education, and to the regional economy of south west Wales," he said.
"This level of funding, as has been recommended by the recent independent review, will help the gardens to develop further as a scientific centre of excellence, a showcase for sustainability, and as a visitor attraction.
"Moving forward, our funding will depend on the garden producing a sustainable business plan and on it meeting a range of challenging targets."
These include extending its educational outreach programme and exploring international scientific research opportunities.
Alongside the assembly government funding, Carmarthenshire council will provide £60,000 a year for the next three years.
The garden's director, Dr Rosie Plummer said: "As well as contributing to the economy, tourism and education here in Wales, our cutting-edge research is increasing our world-wide profile in science.
"In economic terms, the garden consistently contributes some £8m annually in value to the economy of south west Wales and, with 100 staff, is an important employer in the region.
"We manage to achieve this despite being far less heavily reliant on public funding than our sister organisations at Kew and Edinburgh."
Built at an initial cost of £43m the assembly's audit committee subsequently criticised the public bodies involved for not making adequate checks before funding what it called the "risky project."
Related Internet Links
The BBC is not responsible for the content of external sites.