Adverts must go from pink student house in Swansea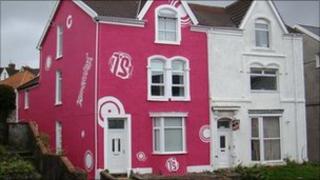 Advertising on the front and side of a bright pink student house in Swansea must be painted over.
The city council has refused a retrospective planning application for the logo and web address of an events company on the external walls.
A complaint was made when they appeared after the building was renovated.
But the pink colour scheme - matching the Cardiff-based company's website - can stay even though it stands out amongst the houses on Bryn Road.
The decision was taken by council officers.
Irene Mann of the residents' association said there were concerns it would set a precedent.
"It's the logos and web address that people objected to - hopefully now it will stop other firms from attempting it," she added.
"Some people would prefer it if the colour was toned down a bit, but there are no rules in Swansea about that."
Residents have praised the landlord for renovating the building as they said it was an eyesore before.