Swansea council workers protest at budget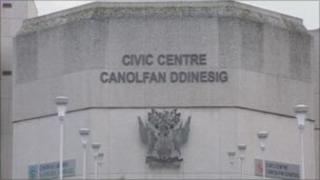 Council employees in Swansea protested ahead of a meeting to set the authority's budget.
Union leaders claimed it would see cuts to services, jobs and staff conditions.
The council has seen a 1.5% cut in its core assembly government funding and agreed to raise council tax by 3.4% and make £11.35m in extra savings.
Unison said the it would hit the lowest paid but the council's cabinet said it was protecting frontline services.
The budget will see an increase in council tax of 3.4% which would leave Band D council tax payers with a bill of £990.91 for Swansea council services.
It also includes a range of cost-cutting measures including management efficiencies and changes to services such as reduced street lighting, less bus subsidies and cuts to music teaching in schools.
But Stuart Rice, cabinet member for finance, said there would be extra money for literacy in schools and child and family services.
"The cabinet's first priority has been to squeeze management costs, reduce staffing levels through voluntary redundancies and make our services more efficient," he added.
"However, despite making these savings, we have had to propose reductions to some services in order to protect our priority areas of street scene services, pupil services and vulnerable people.
"By doing this we have identified more than £11m in savings and we've avoided widespread cuts to the services that people value the most."
But Mike Davies, joint branch secretary for Unison, said council staff had seen below inflation pay rises and pay freezes, the introduction of car parking charges and changes to pensions.
He said they were facing cuts in terms and conditions and job losses.
"In Swansea 38% of employment is in the public sector," he added.
"The reduction in service levels and staff will of course reduce the spending capacity of staff which will therefore hit profits in the private sector, Swansea will be facing a local recession."