Llanelli named 'most Welsh town' for surnames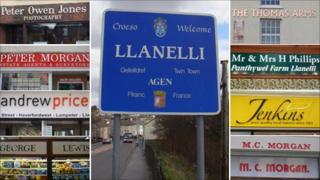 Approaching Llanelli from the Loughor Bridge, Parc y Scarlets looms large on the right and the Trostre Tinplate works dominates the view to the left.
Falling back on lazy stereotypes - that's the rugby and heavy industry boxes ticked.
It just so happens in Cor Meibion Llanelli the town also has one of best known male voice choirs in Wales as well.
Quite how you would measure a town's "Welshness" must be subjective to say the least.
But by trawling the electoral roll for traditional Welsh surnames such as Evans, Jones, Thomas, Price and Morgan, the website 192.com has declared Llanelli as the "most Welsh town in Wales."
My own surname, which is not uncommon, especially in north Wales, was not included for some reason.
Spend just a few minutes walking around Llanelli town centre and the signs above the shops and businesses would seem to back up the survey's findings.
From bakeries to opticians - estate agents to green grocers - Welsh surnames are certainly to the fore.
But speaking to the traders in the town's indoor market, there was a little more scepticism.
On the eve of St David's Day, Miriam Phillips was doing a brisk trade in daffodils at her farm produce stall.
"I don't think the town is as Welsh as it used to be," she said.
"You still hear a lot of Welsh spoken, especially in the market.
"A lot of more parents seem to be sending their younger children to Welsh [language] schools, but it's not what was."
Also making the most of the St David's Day build-up was Barrie Lewis who was selling traditional Welsh costumes from his shop.
"The market has a Welsh a feel to it," he agreed.
"In terms of patriotism then I do think Llanelli is quite patriotic.
"But the most Welsh town? - let's just say I would treat that with an element of slight surprise."
For the record - the survey placed Neath second, Wrexham third and Port Talbot fourth.
Fishmonger Garrett Howells - who learned to speak Welsh at the age of 50 to coincide with the last time the town hosted the National Eisteddfod in 2000 - said there was a feeling the decline in industry had hit Llanelli's traditional "Welshness."
A former worker at the Duport steel-works, which closed in 1981 with the loss of over 1,000 jobs, he added: "Personally I do not think Llanelli has got any less Welsh.
"But if you go to the villages just outside - to Trimsaran, Pontyates, Ponyberem - it's a case where you hardly ever hear English spoken."