£10,000 weekly cost of one-resident Llanelli care home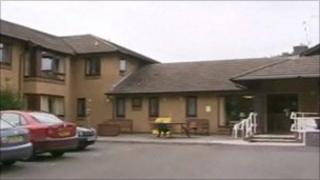 Keeping open a care home that will soon have one resident will cost a county's average council tax payer £7.40 this year, claims the local authority.
Carmarthenshire council says the £10,000-a-week cost will put up council tax by 3.74% instead of 2.92%.
The Independent/Labour coalition had budgeted to close St Paul's, Llanelli.
But Plaid Cymru, who rejected closure along with rebel councillors, said the home had been deliberately run down, a claim the council denies.
In its budget, the council's executive board recommended a council tax rise of 2.92%.
As part of its cost-cutting programme it wanted to close St Paul's, and start talks with the private sector about it taking over another, Caemaen.
But at meeting on Monday a majority of councillors voted down the plan, and both will now remain in council hands.
Plaid put forward its own proposals to avoid the additional increase in council tax, but as it could not win enough support, the increase will be 3.74% instead.
A council spokeswoman said it would see the bill for an average Band D property rise from £925.37 as initially proposed, to £932.77.
Deputy council leader Kevin Madge said the additional rise was purely to pay the running cost of St Paul's.
He said there were currently four residents at the home, but one had requested and been granted a transfer, and two others must be moved as they need specialist elderly and mentally infirm (EMI) care.
"I accept the democratic vote but Plaid Cymru and other councillors have got to realise the consequences of their actions and I don't think a lot of them thought it through," he said.
"There is going to be one person in that home with no waiting list and council tax is going up almost one percent to pay for it.
"I'm sure council tax payers will be very angry."
The council said the decision to keep Caemaen in local authority control did not affect its 2011/2012 budget but would in future years.
There had been a long-running campaign in Llanelli to keep both homes open with hundreds of people marching through the town centre last year.
Plaid Cymru group leader Peter Hughes Griffiths said the council had deliberately run down both homes.
"They used this as an excuse to try and close them - they can fill them as they are the only local authority homes in Llanelli," he said.
"It they were used to tackle hospital bed blocking... there is no doubt they could fill them and they would be self-financing."
Mr Hughes Griffiths said he put forward a plan to use a £1.9m assembly government payment to pay for running the homes and to avoid cuts to other services such as music in schools, youth clubs, pest control and blue badges.
"The Labour and Independents voted en bloc to reject this and to the increase in council tax," he added.
A council spokeswoman said: "There is absolutely no truth in the accusation that the council has deliberately run down Caemaen and St Paul's care homes.
"There is no waiting list for care home places in Llanelli and there are around 70 spare places available in Carmarthenshire, most of them in Llanelli.
"There is no bed blocking, not one person is waiting in hospital for a care home place."