Hermon wins bid for councillors' vote on slurry lagoon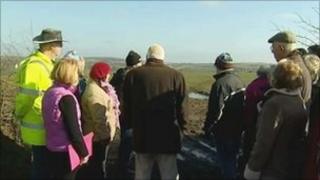 Campaigners against plans to create a slurry lagoon near a Pembrokeshire village have won their campaign for the issue to be decided by councillors.
Pembrokeshire council had said one of its planning officers would rule on the plans bid by a dairy farm near Hermon.
Farmer Paul Vizza wants to build an earth-banked lagoon that could hold up to 2,700,000 gallons of slurry.
Opponents want to involve ministers but the assembly government has yet to decide if it will agree to intervene.
The planning application shows the slurry would be pumped through a series of pipes from Brynfa Farm to the lagoon, around half a mile away.
Mr Vizza told BBC Wales: "The opposition to these plans is very limited in the village. We've followed all the proper procedures.
He said he had to build the lagoon "to comply with new regulations on spreading slurry and to continue in business".
"I will invite members of the local community to come have a look at the site over the weekend and to explain the plans.
"There are also plans to mitigate the impact on the local community by adding an additive to the slurry that will dilute the smell."
There has been fierce opposition in Hermon, near Crymych, where villagers are concerned about smells from the site and possible health implications.
They told BBC Wales they were pleased but surprised that Pembrokeshire council had bowed to public pressure over who was to decide the issue.
Lost confidence
However, they said they had lost confidence in the local planning authority and had submitted a call-in request for the application to be considered by the Welsh Assembly Government.
Pembrokeshire council said it could not comment as the application would be decided by the planning committee shortly.
The Welsh Assembly Government said: "A request was received in February 2010 to call in an application for planning permission for the construction of an earth bank slurry lagoon for the storage of agricultural slurry at Brynfa Farm, Hermon, Pembrokeshire.
"Welsh ministers decided not to call in the application on 19 February 2010. Amendments to the application were submitted to Pembrokeshire County Council and a further request has been made for the amended application to be called in.
"The request is currently under consideration and a decision will be made by Welsh ministers as soon as possible."