Carmarthenshire farmer blockade over TB slaughter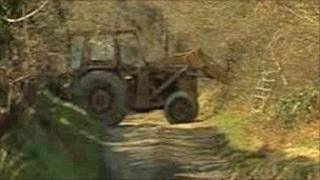 A farmer blocked off access to his land in Carmarthenshire as animal health officials arrived to slaughter his cattle which had tested positive for TB.
Police were called to Cwm Farm at Blaenycoed near Talog after he blocked a track with a tractor.
The Welsh Assembly Government said it was necessary to slaughter the entire herd to contain the outbreak.
It said it needed police help to gain access to the land.
A spokesperson said the farmer had been unwilling to comply with TB testing and it had previously been necessary to obtain a warrant to check his animals.
"The veterinary advice to the Welsh ministers on this case is that slaughter of the whole herd is required to resolve the TB outbreak.
"Welsh ministers accepted this advice and Animal Health obtained a warrant for the slaughter of the remaining cattle on the farm.
"[He] has not co-operated with Animal Health and has not allowed them entry to his farm so that they can carry out the whole herd slaughter.
"Animal Health have engaged the police's assistance in the execution of the warrant."