Swansea rail electrification plea from city leader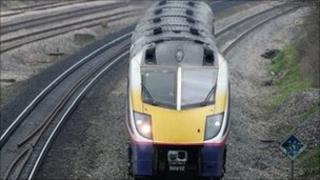 Swansea council leader Chris Holley has urged the Welsh and UK governments to secure European funding to electrify the rail line to the city.
He said other countries had used EU grants to pay for similar projects.
The Department for Transport has said the electrification of the line from London would only stretch to Cardiff.
Meanwhile, Plaid Cymru's transport spokesperson Jonathan Edwards has urged the UK government to extend the £1bn upgrade to Swansea.
Last week UK Transport Secretary Philip Hammond said he had not seen a viable business case for the electrification of the main line between Cardiff and Swansea, although has not ruled it out in the future.
Liberal Democrat Mr Holley said: "There are precedents for European funding being used for electrification and introducing high-speed lines in France and Spain.
"The government must explore this option as a matter of urgency so that Swansea can benefit from high-speed links to London and beyond.
"The Wales European Funding Office is provisionally talking about starting the drafts of the 2014-2020 programmes towards the end of this year.
"Politicians in Westminster and Cardiff Bay need to act now so that we make a bid for the next tranche of European funding."
Plaid Cymru MP, Mr Edwards, raised the issue at transport questions in the House of Commons on Thursday.
"The announcement that the line from London will only be electrified as far as Cardiff has come as a blow to businesses and commuters in Swansea and the south west of Wales," he said.
Diesel power
"Other areas of the UK are streets ahead of Wales as they receive investment into high speed rail. Why is Wales being left in the slow lane?"
Under the plans announced last week trains will automatically switch to diesel power as they leave Cardiff travelling west.
The Welsh Assembly Government has also called for the full electrification of the line to Swansea.
But Mr Hammond said that because of speed limits dictated by the geometry of the line "there would be no time saving benefits from electrifying the line from Cardiff to Swansea".
"Services between London and Swansea currently operate at a frequency of only one train an hour off-peak," he added.
"Consequently, I regret to say that there is not, at present, a viable business case for electrification of the main line between Cardiff and Swansea."