Port Talbot biomass energy plant emissions limits eased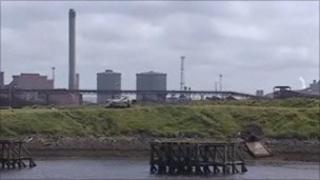 Environment Agency Wales (EAW) has agreed to ease limits on emissions at a planned £400m power station in Port Talbot.
The changes - requested by the company behind the biomass energy plant - increase the limit for nitrous oxide, sulphur dioxide and hydrogen chloride.
A revised permit will also allow Prenergy to use wood pellets as well as wood chip at the plant.
EAW says the changes are "well within" safe limits but opponents are unhappy.
In January, the agency began its own investigations, and residents and other interest groups were invited to share their views.
As part of its study, the EAW heard from the local health board and council environmental health department.
EAW said Abertawe Bro Morgannwg Health Board was advised by Public Health Wales and the Health Protection Agency that "the proposed increases in these pollutants or emissions are unlikely to impact adversely on public health".
'Endorsed our decision'
Opponents have said previously that "fundamental objections" over risks to air quality and health remained.
Plans for the plant, near the town's deep water harbour, were first unveiled in 2007 and when complete it is envisaged it will create enough energy to be able to power 500,000 homes.
Construction work is not expected to start before the end of 2011.
Mary Youell from EAW said: "If we thought these changes would compromise air quality standards or the communities we protect, we would not be accepting them.
"We have discussed these changes with health professionals from the local health board and other key organisations who have endorsed our decision."