John Cooper double murders trial told of death smell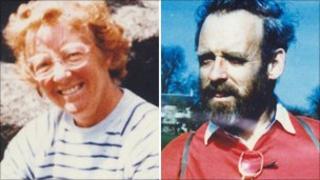 Two former police dog handlers were led to the bodies of two murder victims on the Pembrokeshire coastal path by the "smell of death," a jury has heard.
The officers were looking for Peter and Gwenda Dixon of Oxfordshire, who were shot while out walking in 1989.
John Cooper, 66, from Letterston, Pembrokeshire, denies the killings.
He also denies murdering brother and sister Richard and Helen Thomas at Scoveston Park in 1985, and other charges at Swansea Crown Court.
Retired police dog handler Michael Calas told the jury that on 5 July, 1989 he was in a team looking for the Dixons who had been reported missing.
The court had earlier heard they were last seen alive on 29 June.
Mr Calas and his colleague Gwyndaf Lewis Jones noticed a "pungent smell" while checking a section of the path just west of Little Haven, and not far from where the holidaymakers had been camping.
Arms bound
He left the path and went down to what was described in court as a "plateau" on a cliff edge.
He saw the body of Mrs Dixon before he found that of her husband.
Former Home Office pathologist Prof Bernard Knight described to the jury how he arrived at the scene later that day.
He said the partly-concealed body of Mrs Dixon was found face down in a heavily wooded area and that of her husband on the edge of a cliff face with his arms bound behind his back.
Prof Knight said Mrs Dixon had been shot twice - once in the centre of the back and once in the chest.
Argument
A post mortem examination later revealed she had also suffered a "substantial" blow to the head.
Her husband had been shot three times - in the back, the front and in the face.
Prof Knight said all the wounds were consistent with being shot with a 12-bore shot gun from close range, and a degree of precision had been used.
"As with the lady they [the shot gun wounds] were not contact but short range - anything from inches to a maximum of a couple of feet," he said.
The court heard the couple had decided to take one last walk while their tent dried, before heading home to Oxfordshire.
The owner of the camp site became worried after a few days when they did not return to their tent, and police were later called when the Dixons' son called the site to check on them.
Earlier, the jury heard a statement from farm labourer Neil Evans, who described how Mr Cooper occasionally visited Scoveston Park to buy hay.
He also said he once witnessed an argument between Mr Cooper and Richard Thomas over the price of hay.
Mr Cooper is also accused of five robberies, rape and indecent assault relating to an incident in 1996.
He denies all the charges and the trial continues.