John Cooper trial: Jury visits Pembrokeshire farm house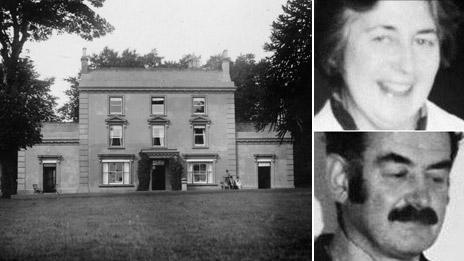 A jury has visited the site of a house where the bodies of brother and sister Richard and Helen Thomas were found in December 1985.
They were both shot at Scoveston Park, near Milford Haven, and the building set alight.
John Cooper, 66, of Letterston, denies murdering the Thomases and Oxfordshire couple Peter and Gwenda Dixon on the coastal path four years later.
Jurors were also being shown Mr Cooper's house.
It was the second day of a tour of sites in Pembrokeshire linked to the trial.
It began on Tuesday with a visit to the coastal path at Little Haven where the Dixons were found shot dead.
On Wednesday they visited the site where the Thomases lived.
A new house has since been built on the land.
The jury has heard emergency services were called to the old three storey house they shared on the evening of Sunday 22 December after being alerted to a large fire.
When it was brought under control early the next morning, the badly burned bodies of the brother and sister were recovered.
Post mortem examinations revealed both had been shot by a 12 bore shotgun.
Miss Thomas had been shot to the head and Mr Thomas, a farmer, had a fatal gunshot wound to the right lower abdomen fired at point blank range.
He had also been hit to the left area of the face by what was described as a "raking shot."
The prosecution claim Mr Cooper targeted the house in the belief Ms Thomas was probably home alone and that he was later disturbed by Mr Thomas when he returned.
It is thought Mr Thomas was killed or fatally wounded in an outhouse and his body dragged into the main building.
Gerard Elias QC told the court there was "clear evidence" diesel had been used to accelerate the fire.
The house was extensively damaged and was knocked down.
During the trial the jury has also heard a statement from farm labourer Neil Evans, who described how Mr Cooper occasionally visited Scoveston Park to buy hay.
He also said he once witnessed an argument between Mr Cooper and Richard Thomas over the price of hay.
Mr Cooper is also accused of five robberies, rape and indecent assault relating to an incident in 1996.
He denies all the charges and the trial continues.