South Wales rail patrols targeting luggage thieves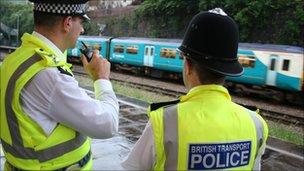 Plain-clothed and uniformed police officers are patrolling trains in south Wales targeting luggage thieves.
British Transport Police (BTP) say such crimes are its top priority at the moment with the Easter holidays approaching.
Passengers are being told officers are on board and warned to secure their property during journeys.
Insp Gary Ash said the operation was paying off with a number of arrests.
He said the force was working with First Great Western and Arriva Trains Wales, which operate services in south Wales.
Insp Ash said: "Theft of passenger property is taken extremely seriously and one of our primary policing objectives is to reduce the number of people who become a victim.
"This campaign is about raising awareness and vigilance among passengers."
He said successes so far include a luggage thief caught by plain-clothed officers during an onboard patrol.
"With Easter on the horizon, trains will become much busier, and as a result we are upping our game for the holiday period," he said.
He urged passengers to never leave laptops, mobile phones or valuables unattended and to be extra vigilant when trains stop at stations.
Anyone with information on luggage theft can contact British Transport Police on 0800 405040.
Related Internet Links
The BBC is not responsible for the content of external sites.