Citizens' Advice Bureau theft: Fosters repay £160,000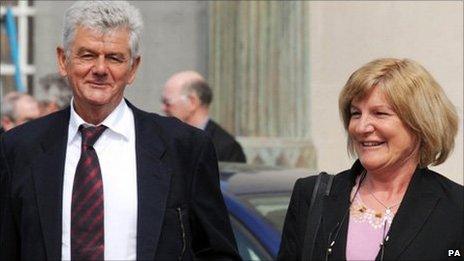 A husband and wife who stole in excess of £500,000 from a Citizens' Advice Bureau (CAB) office must pay more than £160,000 in compensation.
Dale and Sally Foster were jailed for six years in 2009 for stealing from the branch in Ammanford, Carmarthenshire.
A judge at Swansea Crown Court ordered Sally Foster to pay back £148,519 and her husband £14,415.
When they were sentenced the court was told all the money "had gone" but investigators have traced some.
At a proceeds of crime hearing Judge Jarman QC was told Mrs Foster would have to sell her 50% stake in a house in France that she part-owns with her mother.
The couple were warned they will face more time in jail if they fail to comply with the order.
At their trial two years ago the jury heard former branch manager Sally Foster and her husband had access to large amounts of money after their small office won a Wales-wide CAB call centre contract.
The court heard that the couple used the money to fund a champagne lifestyle and breaks and shopping trips to Harrods and Harvey Nichols.
The judge at their trial told them they had been "brazen," adding: "You squandered public money on champagne, expensive meals and holidays".
A skiing holiday to the Canadian resort of Whistler, costing £17,000, came during a three-month spending spree at the end of 2003 when the couple went through £56,000, not including the holiday.
Their scam only came to light when both quit work overnight at Easter 2006, posting the office keys through the letterbox of a local solicitor who was a volunteer and acting bureau chairman.