Billy Beynon Hill in Bryn to honour boxer's achievement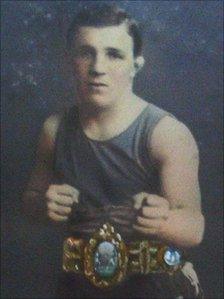 Villagers are paying tribute to a boxing champion almost 80 years after he died by naming a hill in his honour.
Billy Beynon Hill in Bryn, near Port Talbot, will recognise a collier who found success in the boxing ring and suffered a tragic death.
He was relatively unscathed in 18 years as a professional, briefly holding the British Empire bantamweight title.
But the fighter died aged 41 in 1932, rescuing one of his 15 children from an accident at the village mine.
Now the hill, which he would pound up and down on 20-mile training runs, is to be renamed, with the support of Bryn Residents Action Group.
Neil Perry, chair of Llynfi Valley Historical Society, explained why, even though the 5ft 2in (1.57m) fighter was a legend in his own lifetime, he seems to have become largely a footnote in Welsh boxing history.
"All the accounts we've been able to find of Billy's boxing career show that he was a very accomplished fighter; you didn't get to be Empire champion in those days if you weren't."
"But he won his title early on as a professional, defeating Digger Stanley in June 1913, and lost it again after just two defences."
"After that he never managed to reach the same heights, winning just 70 of his 190-odd fights; so he was eclipsed in history by the likes of Tommy Farr, Jimmy Wilde and Jim Driscoll."
"But I think that the fact that he carried on fighting, refusing to be bowed, is a measure of the man's character, and makes him worth honouring in itself."
Away from boxing, recollections of his life appear to be few and far between.
It is known that, both before and after his time as a prizefighter, he worked as a collier at the Navigation Mine in Bryn.
After a shift he would run up the hill now named in his honour, to Maesteg and back - a round trip of 20 miles at 900 ft above sea level - before returning home to his 15 children.
It was while working underground on 20 July 1932, that he died, throwing himself in the path of a rockfall, giving up his life to save his son's.
Bryn legend has it that his colleagues carried his coffin up the hill on which he used to train, and that his 15th child was christened on his coffin, on the day of his funeral.
"There's no doubt that Billy would have been a local celebrity during his life and for years after in the area, even if his star had faded elsewhere in Wales," said Mr Perry.
"The stories of his death and funeral tell you what an impact he must have made."
"I think it's really important that his legacy is ensured with this dedication, as we're getting to the stage where even the grandchildren of the people who knew him are getting on; and very soon his story would have been lost forever."
Related Internet Links
The BBC is not responsible for the content of external sites.