John Cooper murder trial: Victim's son ring testimony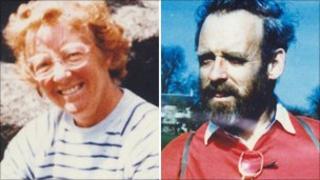 The son and daughter of a couple shot dead on a coastal path in 1989 have given evidence at the trial of the man accused of their murder and two others.
John Cooper, 66, from Letterston, Pembrokeshire, denies killing Peter and Gwenda Dixon of Oxfordshire.
Tim Dixon told Swansea Crown Court his father always wore a gold wedding ring. A jeweller said he bought a ring from a "Mr J Cooper" in July that year.
Mr Cooper denies four murder charges. The trial continues.
The court heard that Peter and Gwenda Dixon had been visiting the same campsite in Little Haven for around 15 years and had been married for 27 years when they were murdered.
The jury has been told the pair were killed while out taking a final walk on 29 June before returning home.
A search was launched four days later after the Dixons' son had called the campsite to check on his parents.
The partly-concealed body of Mrs Dixon was found face down in a heavily wooded area and that of her husband on the edge of a cliff face with his arms bound behind his back.
Both had been shot and had wounds consistent with those from a 12-bore shot gun.
A post mortem examination later revealed Mrs Dixon had also suffered a "substantial" blow to the head, the court heard.
Tim Dixon told the court on Monday that concerns were raised about his parents when he dropped his sister off at the family home on Monday 3 July, to find the place deserted.
He subsequently found out his parents had not returned to their place of work.
Mr Dixon's sister, Julie Ann Pratley, told the court that she had returned from a holiday in Cyprus on 3 July when her brother and she found the family home deserted.
The pair were asked about a pair of shorts discovered in the defendant's house.
When asked if they recognised the shorts, they said they did not recognise them.
High probability
The court also heard evidence from Raymond Smith, who used to own Pembroke Jewellers on the Main Street, Pembroke.
Mr Smith told the court that he was asked by police in 1998 to look at transactions made in his shop in 1989.
He confirmed that he bought a 22-carat wedding ring from a Mr J Cooper, of 34 St Mary's Park Jordanston, on 5 July 1989 and that he paid £25 for the item.
Under cross examination he said he had no recollection of the transaction or of the defendant.
The court heard the ring may have been sold for scrap by Mr Smith, who said: "Wedding rings didn't sell well second hand."
The jury also heard evidence from handwriting expert Hilary Pritchard who compared the handwriting of Mr Cooper with the customer entries in the receipt books of Pembroke Jewellers.
Cartridge box
She said there was a high probability that the defendant wrote the customer entries and it was admitted in court that this was the signature of the defendant.
Mr Cooper, 66, also denies murdering brother and sister Richard and Helen Thomas at Scoveston Park in 1985.
Ms Pritchard also said there was a possibility that the writing found on a shotgun cartridge box found in the defendant's garden was that of Helen Thomas.
Mr Cooper also denies charges of rape, indecent assault and five robberies relating to an incident in 1996.
The case continues.