Catherine Zeta Jones quits Swansea film festival role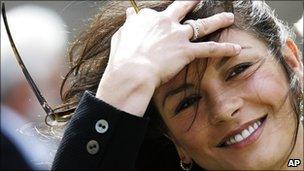 Catherine Zeta Jones has quit as patron of a south Wales film festival, after it was strongly criticised by visitors.
The Hollywood star's decision to disassociate herself from the Swansea Bay Film Festival follows the resignation of actor Michael Sheen.
He resigned as vice president of the festival last month.
Festival organisers declined to comment on Zeta Jones's withdrawal of her patronage.
Unhappiness with the event surfaced after one festival-goer, American filmmaker Steve Rosen, made a documentary about the festival, describing it as "unquestionably the worst event of its kind."
Mr Rosen's film, "Looking for an Audience", which he made with his partner Teri DeBono, can be seen on YouTube.
It details the frustrations they felt whilst attending the 2010 Swansea Bay Film Festival, having travelled from California after being told they had been nominated for an award.
The documentary has itself now been nominated for a number of minor film awards.
Organisers of the festival back in February commented on the criticisms made in the documentary.
They said: "It's a great shame when some excellent films get small audiences and we share the disappointment of film makers who fail to get the numbers they would wish to see attend their screenings.
"To that end we are increasing the number of screening venues for 2011 and the quality of our media partners in spreading the word about the films being seen."
Zeta Jones's American representation has now announced that the Swansea-born actress is no longer associated with the festival, and her image has been removed from their website.
According to their website, the company behind the festival, Planet Film Festival, run film events across the world.
BBC newsreader Huw Edwards had once been patron of the Llanelli-based International Film Festival of West Wales, but has announced he is no longer involved with it.
In a statement he said: "I always support ventures which might boost the cultural life of Llanelli.
"But this venture no longer seems to meet the standards I expect and for this reason I have severed all links with it."
The Swansea Bay Film Festival is due to take place between 5-15 May 2011.