David Hasselhoff's Welsh accent struggle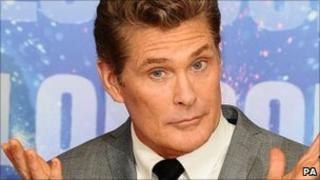 Baywatch star David Hasselhoff says he is enjoying romantic trips to the Welsh countryside as he "woos" his new girlfriend.
The actor, who is a judge on the new series of Britain's Got Talent, met Hayley Roberts from Glynneath at an audition for the show in Cardiff.
The couple have been spotted at restaurants in Swansea and Hasselhoff has been to meet her parents.
But he said he was struggling to understand her Welsh accent.
The actor, nicknamed The Hoff, said: "I'm big on romance. I wooed her, I was a gentleman.
"I went to see her in Wales. It's been really nice because I've got the chance to see a bit of the countryside, a bit of Wales and it's been a terrific time. Wales is nice."
He said he had met her family but their relationship was still in its early days.
Speaking on the ITV daytime show Loose Women he added: "We met when I was doing an episode of Britain's Got Talent in Cardiff.
"We have long conversations because she's from Wales and I can't understand her.
"We are just getting started . . . trying to go to the movies.
"We are trying to have a romance and the press is like all over her parents."
The actor, who first found fame in the USA series Knight Rider, said Miss Roberts had joined him on a recent trip to Germany to promote his new record.
She was in the audience as he appeared on the ITV daytime show.
"I have always been a one woman man, despite what people say," he added.
"I like sharing my success with people and taking people around the world. It's a lonely business."