Mark Newton circling Wales on his mobility scooter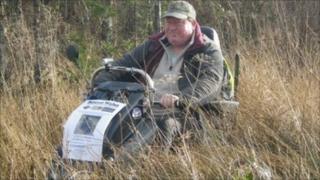 A former Swansea soldier is travelling around Wales on his mobility scooter.
Mark Newton, 45, from Loughor, who was injured while on attachment to the United Nations, is aiming to travel over 1,200 miles in 46 days.
He will be raising money for a number of forces' charities and to support those injured in Afghanistan.
His route will take him west to Pembrokshire then up to north Wales following the coast and then where possible on the Offa's Dyke Path.
As a keen wildlife photography he needed a sturdy scooter capable of handling rough terrain and with the help of his old regiment the 1st The Queens Dragoon Guards and The Royal British Legion he bought one two years ago.
Mr Newton said he wanted to repay their help and as well as raising money for them he will also be supporting Help for Heroes.
"People have been very supportive and I have had offers of accommodation at most of the overnight stops - a number of ex-soldiers are putting me up" he added.
Mr Newton was injured while on attachment with the UN in Cyprus, dislocating his knee which has since seen him undergo 12 operations.
"It's just going to me and the scooter - I will carry all my spares and everything I need with me," he said.
"Every single penny raised will go to the charities."