Swansea University proposes 'no redundancies' pay cuts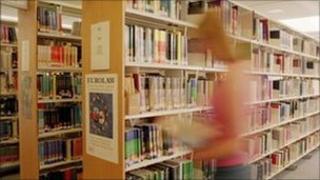 Swansea University is offering a "no redundancy" deal to its academic staff and senior managers provided they sign up to pay cuts of up to 3.75%.
Vice-chancellor Prof Richard Davies said the scheme could save £1.5m as Welsh universities face a cash squeeze.
In an e-mail to staff on Wednesday, he described the plan as "bold and unprecedented".
But the union Unite said it would take legal advice as it may contravene sex discrimination and equal pay laws.
The university said its proposed "time-limited increment sacrifice scheme" would apply to staff on grade seven salary scale.
A salary grading structure on its website lists pay grade seven staff from August last year as starting at £26,629.
The university said an example would be administrative support staff such as a junior press officer, or a reseacher or assisant, the lowest level for academic staff.
Teaching staff begin on grade eight, with salaries starting on £30,870, it said.
In his e-mail, Prof Davies said the proposal "will mean a 3% reduction in expected salary" for staff in grades seven to 10 in the academic year 2011-12.
The cut would amount to 3.75% for staff above grade 10 - senior management and professors, he said.
Grade 10 salary scales are listed as starting at £45,336.
Senior management and professors negotiate their salary on performance, including increments.
'Scale of cuts'
The university said that under the proposed arrangements, any cut affecting these higher grade staff would form part of their salary negotiations.
Prof Davies told BBC Wales that if an agreement was reached "we will promise not to go ahead with any compulsory redundancy whilst that deal is going ahead.
"It's not really a pay cut this is matter of postponing increments."
Asked why the university was pressing ahead with plans which meant less money for staff, he said: "The student experience is paramount.
"We must continue to provide an excellent student experience and maintain the university.
"It's very difficult to make the scale of cuts required because of the reduction of public funding quickly.
"So it seemed obvious to us to either reduce staff or there has to be some agreement to reduce the salary bill for a period to give us time."
A university spokesperson added: "Like universities across the UK, we have to address the financial squeeze created by inflationary cost pressures and reductions in public funding."
Speaking to the Times Education Supplement, Mike Robinson, national education officer for Unite, said the increment allowed workers to build pay as they gained experience and its removal would mean that staff doing the same jobs for similar lengths of time would be on different pay scales.