Film 'zombie' reported to Dyfed-Powys Police, FoI shows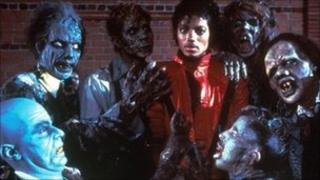 If you want to know how many reports of UFOs, zombies and ghosts one Welsh police force has had in recent years, thank the Freedom of Information Act.
Dyfed-Powys Police is putting on its website the requests it receives under the Act, and the responses it gives.
It reveals 14 recorded UFO sightings in the past five years, along with 26 reports of ghosts, 11 witches - and two of zombies and vampires respectively.
But one zombie report turned out to be in a horror film being shot in Pembrey.
During those five years the force have had to deal with over 3,300 requests, which police said had cost it over £500,000.
Since 2005 the public has a right to access a whole range of recorded information held by public authorities such as councils and police forces.
The majority of requests to Dyfed-Powys Police are about crime statistics, investigations, resources, staffing and force policy.
For example 1,315 motorists were issued with fixed penalty notices for driving whilst using a mobile phone in 2009.
In 2010 the force received 21 allegations of crime involving the website ebay and 47 allegations involving the social networking site Facebook.
As of 31 March 2010 there were 294 registered sex offenders living in the force area.
The Dyfed-Powys Police helicopter made 481 flights in 2009 and the force spent £299,078 on its press and communications office and officers in 2009/10.
Chinese lantern
But among the information requested and is now being published are more unusual queries.
Between 2005 and 2010 there were 36 incidents of big cat sightings or animal deaths where big cats were suspected.
There were 14 UFO sightings, including one in Newcastle Emlyn in September 2009 where the caller reported seeing a "triangle of big round orange lights with white around them" in the sky.
Another in Glanamman in November of the same year where an orange sphere was reported in the sky was later found to be a Chinese lantern.
In response to another request about how much the force had spent on mediums, clairvoyants or other psychics during the last five years it said it did not use such services.
It said it could not respond to a request about how many of its officers had identified themselves as Pagan as it did not record "religion or faith as Pagan or any of the Pagan derivatives such as druid, heathen or Wiccan."