Tributes to 'heroic' Helmand marine Nigel Dean Mead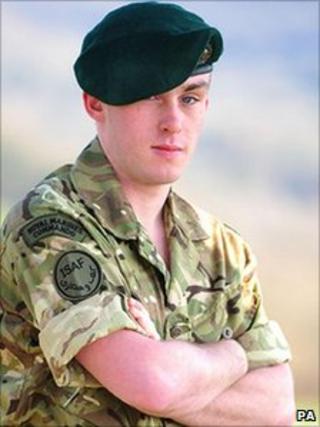 The mother of a marine killed by a bomb in Afghanistan says she will have "a broken heart" for the rest of her life.
Marine Dean Mead, of Lima Company, 42 Commando Royal Marines, died in Helmand province on Sunday.
Tributes to the 19-year-old from Carmarthen , who was known as "Deano" and was on his first tour of Afghanistan, have been pouring in from family and colleagues.
His mother Amanda called him the "rock that supported me through life".
Marine Mead's death takes the number of British military killed in operations in Afghanistan since 2001 to 365.
Before joining up in October 2008, aged 17, he lived with his mother, Amanda, and sister, Jessica, in Carmarthen.
He studied at Queen Elizabeth High School in Carmarthen.
He was fatally injured by a bomb while searching a compound in the Nad Ali district.
In a direct tribute to her son, his mother said: "You had the most wonderful and warming personality, one that I have never seen in anyone else, nor will ever see again.
"Although you turned out to be a proud and heroic Royal Marine you will always be my little blue-eyed boy.
"The consequences of never hearing you say the words: 'I love you mam' or never again having one of your loving and comforting 'cwches' and never hearing your cheeky laugh will leave me with a broken heart for the rest of my life."
His father, Philip Mead, said his son would "forever be in our hearts".
Marine Mead's sister, Jessica, paid tribute to the "amazing" brother who was also her best friend:
"You found the silver lining in everything you did, you had such a carefree spirit.
"You are my big brother, my hero and you will have that young life forever captured in the wonderful photographs you have left behind for me."
Dean's best friend, Tom Boodeny, recalled "13 fantastic years" as a pal of the "entertainer and peacemaker".
'Enormous personality'
"You were the one person in the whole world that I could trust I could tell you anything and you would keep it a secret like a best friend should.
"I know it's hard to lose a member of your family, but Dean, losing a friend like you is just as painful for me."
The teenager was also highly thought of by his colleagues.
Lt Col Ewen Murchison, commanding officer of 42 Commando Royal Marines, said: "Deano, as he is known to his friends, has made the ultimate sacrifice.
"The loss of such a fine young man is felt deeply across the whole of the Commando and shows the high regard in which he was held; indeed he was a truly valued, charismatic and popular member of Lima Company and the wider 42 Commando family.
"Our thoughts and prayers are with his mother, Amanda, his father, Phil, and his sister, Jessica."
Marine Chris Stanton said: "My very best mate in the corps, he was a young man with an enormous personality.
"He was dedicated and hard working and took a huge amount of pride in everything he did.
"He was a man who would not back down if he believed someone was wrong, and he would always be the first to volunteer, as that was who he was; he was always looking out for others."
Marine James Latham added: "Deano was a friend, close colleague, always had a smiling face, never said a bad word about anyone and nobody had a bad word to say about him.
"Always someone to talk to just across the hallway, he was loved as a brother amongst the troop and will be greatly missed."