Coastguard: Milford and Holyhead groups welcome rethink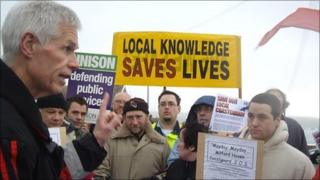 Campaigners fighting to retain two coastguard stations in Wales have welcomed a UK government rethink of planned closures.
The centres at Holyhead and Milford Haven are two of 10 under threat.
Transport Secretary Philip Hammond told the BBC he is looking again at modernisation plans.
Campaigners for both Welsh stations said they welcomed his comments but would continue to press for them to remain open.
There are currently 18 round-the-clock Maritime Rescue Co-ordination Centres (MRCC) as well as a smaller London centre covering the Thames that is not staffed 24 hours a day.
The government has been consulting on replacing these with three 24-hour centres and five sub-centres open only during daylight hours, one of which would be Swansea.
There have been two rallies in Pembrokeshire in support of Milford and MCA chief executive Sir Alan Massey was met by protesters when he visited the port earlier this year.
Dennis O'Connor, spokesman for the Save Milford Haven campaign, said it had galvanised people across Pembrokeshire, Carmarthenshire and Ceredigion.
He said he believed some closures were still inevitable.
But he added: "It is good the government has acknowledged they've got it wrong and will come back with new proposals.
'Big change'
"We are hopeful ultimately there will be a future for Milford Haven coastguard station but until the day comes when they announce it we will continue to campaign."
Anglesey Labour MP Albert Owen said: "It was a complete and utter disaster from the start to the finish, and the public really showed the MCA what they thought of their ill-conceived plans".
Anglesey Labour Party released comments from Joe Lock, who organised the protest on the island, who said: "I'm really hoping that Mr Hammond will see sense and scrap these proposals altogether and start afresh.
"He needs to listen to our coastguards who work on the frontline every day, consulting from the bottom up."
Anglesey councillor Trefor Hughes said: "I don't think the government really looked in depth at the closures.
"I don't think they looked at the number of people who reside here, come on holiday here and use the beaches and the seas, and the number of ships that pass two or three miles off the coast.
'Hopeful and optimistic'
Conservative Preseli Pembrokeshire MP Stephen Crabb was "hopeful and optimistic" that Milford would be saved, but his understanding was that there is still "work to be done" and so an announcement was not imminent.
But Mr Crabb said he would be "bitterly disappointed" if it did not remain open at the end of the review
Mr Hammond said: "We are looking again at the best configuration that will allow us to deliver those technological improvements, those working practice improvements and we will announce our conclusions to Parliament before the summer recess.
"It's not about a U-turn, it's about deciding how best to implement what will be a very a big change in how the coastguard operates."
Plaid Cymru repeated its call for coastguard services to be devolved to Wales.
Plaid MP Jonathan Edwards said: "Thank heavens that the government has finally bowed to pressure and stopped a move which could have had disastrous consequences.
"These plans were ridiculous from the start, ill-thought out and failed to even hold a proper risk assessment."