Llandyfeisant church restoration planned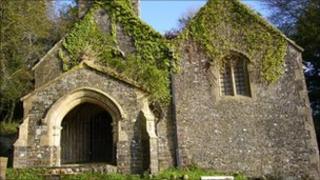 A meeting is to be held to discuss plans to restore a church in a Carmarthenshire beauty spot.
Llandyfeisant Church on the Dinefwr Estate near Llandeilo has been empty since it was used as a visitor's centre in the 1980s.
The Wildlife Trust of South and West Wales said a lot of work was needed to restore the building.
It wants people to put forward suggestions for future uses at a meeting next month.
The site has a long history, possibly dating back to pre-Christian times, and the church itself has been re-built on several occasions.
A medieval window, thought to date to the 13th Century, was re-used on the south face of the current building, which was constructed in the 19th Century.
'Beautiful site'
Services have not been held in the church since 1961.
It was later taken on by the trust as a visitor centre for schools and visitors exploring the adjacent nature reserve.
Trust conservation manager Lizzie Wilberforce said: "We are hoping to be able to restore this historic building to its former condition, as it is a beautiful site, and the building itself is a key part of the Dinefwr Estate's history.
"We really hope that people will come along to the meeting to find out more about the work we intend to do, perhaps support us if they can, and feed in ideas about how the restored building could be used in future".
The public meeting is being jointly staged with the National Trust at 1800 BST on 2 June in Newton House in Dinefwr Park.