Swansea fan makes three-day Wembley trip from Australia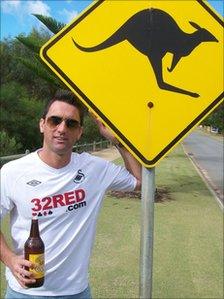 A Swansea City fan is making an 18,000 mile three-day round-trip from Australia hoping to see his team reach the Premier League.
Teacher Garry George said he did not need to think twice about the gruelling trek for the Championship play-off final at Wembley.
The 29-year-old even booked his flights before guaranteeing a ticket for Monday's match against Reading.
"If it was twice as far and twice the price I'd have still done it," he said.
"I leave school on Friday to go directly to the airport at Perth and I'm flying via Singapore to Heathrow, landing on Saturday.
"I'll then get the train to Cardiff where I'll have a night out - if I can stay awake long enough - with some friends from my school days.
"Sunday I will spend with my mother and am meeting up with my Llanelli-based brother before heading up to London early on Monday morning.
"After the game, I will leave Wembley and go directly to Heathrow for a 2200 BST flight and I land at midnight on Tuesday [Australia time] and go to school on Wednesday morning.
"People obviously think I am a little bit mad, especially with the short turnaround and immediate return to work.
"My Australian colleagues can't really grasp the enormity of the occasion though but my friends in the UK aren't that surprised, I've always been pretty fanatical.
"To be fair though, everyone seems to be full of praise and has been giving me credit. I hope the bank feel the same."
Mr George, who has lived in Mandurah, south of Perth in west Australia for the last 18 months, originally hails from Cwmbran.
He started following the Swans as youngster after meeting the club's former goalkeeper Roger Freestone, from Risca in Caerphilly county, at a football presentation night.
His love for the Swans eventually saw him choose to study English at Swansea University and later a postgraduate certificate in education at Swansea Metropolitan University.
After eight years, Mr George left Swansea to find a teaching job in Birmingham but still followed the Swans before emigrating in 2009.
"This season is the first for 10 years that I haven't been to a game," he said.
"I was always going to travel back for the play-off final though. The only decision I had to make was whether or not to ask for the time off or to just throw a sickie.
"Due to the massive holidays we teachers get, I struggled to get time off. My school have only given me the time off because I literally haven't shut up about the game.
"To be fair, they have been very understanding."
Mr George has built up a Swans fan club in Mandurah among his local football team and pupils at school, partly thanks to the attention the club are receiving.
Not only will he be hoping his first trip to Wembley will be worthwhile, his younger brother Craig will also be keeping his fingers crossed.
"Craig follows the Swans due to my influence," added Mr George. "I've promised him I'll pay for his season ticket if we go up, so he'll be ecstatic if we win."