John Cooper trial: 1989 report pointed to local man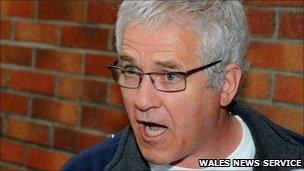 A criminal profiler warned Dyfed-Powys Police 22 years ago that a local man was responsible for four Pembrokeshire murders, BBC Wales has learned.
John Cooper was convicted of murdering Richard and Helen Thomas and Peter and Gwenda Dixon.
David Canter said the killer was likely to be unskilled, used to rural areas, shotguns and survivalist techniques.
Police said his report was a close match to someone like Cooper but a lot of others fitted that description.
Week In Week Out has obtained a report by Prof Canter, who helped pioneer criminal profiling in Britain.
In 1989 he was asked by Dyfed-Powys Police to prepare a profile of the killer of holidaymakers Peter and Gwenda Dixon.
Their bodies were found hidden in dense undergrowth off the Pembrokeshire coastal path, just west of Little Haven, and not far from where the holidaymakers had been camping. Both had been shot.
After visiting the crime scene, studying witness statements, crime scene photographs and post-mortem examination reports, Prof Canter concluded that the killer was likely to be local, and in his early 40s.
In 1989 Cooper was a 44-year-old labourer, who lived a few miles from both murder scenes and his hobbies included shooting and survivalist activities.
Prof Canter also told police he believed the same person was responsible for murdering millionaire farmer Richard Thomas and his sister Helen at their mansion in Scoveston in 1985.
A few months after the Dixons were murdered, the discovery of an IRA arms cache a few miles along the coast led to speculation that the couple may have been killed by gun runners.
But all links were eventually ruled out.
Prof Canter told the programme that he never believed an outsider had killed the Oxfordshire couple.
He said: "It really gave clear indications of looking for a local, small-time criminal who knew about the countryside, who would use a shotgun - a lot of detailed information that clearly pointed to what the police ought to do about their investigations."
Det Chief Supt Steve Wilkins, who led Operation Ottawa, the cold case review into the unsolved crimes, said the force did consider all Prof Canter's theories.
He told the programme: "It was quite a close match to someone like John William Cooper, but clearly there was nothing in it that would have directed you to him as an individual.
"As part of this cold case review I had to look at all suspects from the previous investigations - of persons of interest.
"There were 1,700 people who came into inquiry either as suspects or people of interest.
"Cooper did not feature on that list. There was quite a lot of people who also fitted in exactly the same profile. "
The Week In Week Out special is on BBC One Wales at 1900 BST on Thursday, 26 May.
Related Internet Links
The BBC is not responsible for the content of external sites.