Timeline: John Cooper trail of murder, rape and robbery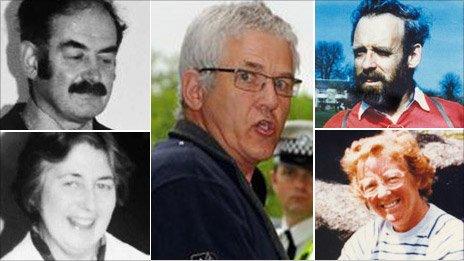 John Cooper, 66, has been convicted of killing four people in Pembrokeshire as well as rape and robbery in a reign of terror that began with burglary.
His son told the jury at Swansea Crown Court how his father would go out at night from his rural home with a shotgun concealed under his coat.
Before long, his night-time raids for money and goods had spiralled in to four murders in the 1980s.
This is a timeline of events.
On 22 December at Scoveston Park, near Milford Haven, the bodies of brother and sister Richard, 58, and Helen Thomas, 54, are found following a fire.
Both Richard and Helen Thomas died as a result of gunshot wounds. A murder investigation is launched and an incident room set up.
At its peak in 1986, there were 150 officers involved.
2 July Tim Dixon, the son of Peter and Gwenda Dixon, reports that his parents have not returned home following a camping trip in Pembrokeshire.
5 July The bodies of Peter, 51, and Gwenda Dixon, 52, are found concealed close to the coastal path near Little Haven at 1530 BST. They were last seen on Thursday 29 June leaving their tent at Howelston Caravan Park at approximately 09.30 BST.
6 July A press conference is called at Haverfordwest to announce the murders of Peter and Gwenda Dixon. Chief Constable Raymond White and Det Chief Supt Clive Jones, lead the investigation.
10 July At a second press conference, Timothy Dixon, the couple's son, and Det Ch Supt Clive Jones give interviews and make a public appeal. An artist's impression of a man seen in the area is released. It is also revealed that the man used Mr Dixon's cash machine card.
18 July Police confirm that more than 1,700 calls have been received from the public over the investigation. The cyclist who used Mr Dixon's cash card has still not been traced.
18 June On the first anniversary of the murders an operation is launched concentrating on areas Peter and Gwenda Dixon visited in 1989. Residents and holidaymakers complete police questionnaires over a two-week period.
6 March In a field near Mount Estate Milford Haven, five teenagers confronted by a man wearing a balaclava and brandishing a sawn-off shotgun. After demanding money, he subjects two girls to serious sexual assaults. The offence remains unsolved. An incident room is set up at Haverfordwest police station. The senior investigating officer is Det Supt Aldwyn Jones.
2 December BBC's Crimewatch Still Unsolved programme features a reconstruction of the 1989 murders. It also repeats some footage used in the first Crimewatch appeal and an interview with the Dixons' son Tim. The response to the programme is "excellent". Information from more than 400 calls is evaluated and leads to police following up lines of enquiry.
21 January Cooper is charged with a number of burglaries and an armed robbery (collectively known as Operation Huntsman) in north Pembrokeshire.
29 January Forensic and ballistics officers examine Cooper's home and surrounding grounds.
10 December Cooper is sentenced to 16 years for armed robbery and 30 burglaries.
February Operation Ottawa is formed. A small team of officers are to carry out a review of material from outstanding undetected serious crime in Pembrokeshir, including the double murders of Peter and Gwenda Dixon and Richard and Helen Thomas, and also the robbery and rape offences at Milford Haven in 1996.
The team spend two years going through a painstaking process of the recovery, cataloguing and recording of all material from the investigations.
8 November A press conference is called at Haverfordwest to outline the aim of Operation Ottawa and provide an overview of the current situation. A renewed public appeal is also made for witnesses.
June Cooper is produced from prison to be questioned about the two double murders and offences in the 1990s. He is interviewed over a four-day period at Ammanford.
23 April Detectives receive the first phone call from LGC Forensics about significant forensic findings.
April/May LGC forensics continue to make significant forensic discoveries relating to the murders and robbery/rape.
13-15 May Cooper is arrested, charged and remanded in custody for the four 1980s' murders, a serious sexual assault and five attempted robberies in Milford Haven in 1996, after appearing in Haverfordwest Magistrates Court.
27 May Cooper appears before Swansea Crown Court.
21 March Start of Cooper trial at Swansea Crown Court. Postponed to October 2010 and then to 21 March 2011.
26 May Cooper convicted on all charges and jailed for life
Related Internet Links
The BBC is not responsible for the content of external sites.