John Cooper: Police may reopen Flo Evans death inquiry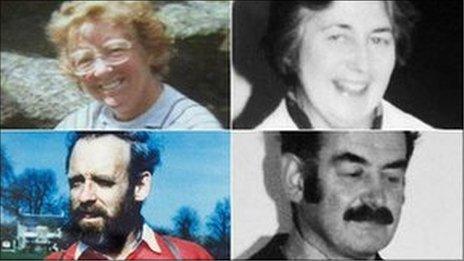 Police may reopen an inquiry into the death of a woman who lived near multiple murderer John Cooper, and whose body was found in a bath.
Florence Evans, known as Flo, died soon after holidaymakers Peter and Gwenda Dixon were murdered by Cooper on the Pembrokeshire coastal path in 1989.
Cooper was jailed for life on Thursday for two 1980s double murders which the judge called crimes of evil wickedness.
Police say they have a duty to see if he is responsible for other crimes.
The body of the widow, who was in her 70s, was found fully clothed in the bath of her home in Rosemarket.
Det Ch Supt Steve Wilkins, who led the cold case review into the murders of the Dixons and the 1985 murder of brother and sister Richard and Helen Thomas, said Cooper's trial turned up some "interesting issues" requiring further investigation.
Cooper, 66, from Letterston, was convicted after an eight-week trial at Swansea Crown Court.
He was also convicted of separate charges of rape, sexual assault and attempted robbery.
Mr Wilkins told BBC Radio Wales' Eye on Wales programme: "There are a number of issues which I think we need to look at; his own history, where he's lived, what he was involved with at the time he lived in different locations.
"At this moment there is nothing concrete that connects him to any other offences, though there are a number of interesting issues which have come out during the trial.
"But also I need to speak to my chief officers as to how we then progress any other investigations, if indeed we do."
Florence Evans was mentioned by Cooper in his own defence evidence. Cooper and his wife, Pat, lived nearby and would visit her at her smallholding.
"Clearly, John Cooper himself has introduced Florence Evans into his trial, and we were obviously aware of her prior to us taking the proceedings, and also the circumstances of her death, which were looked at within the coroner's court," said Mr Wilkins.
"Clearly, there is connectivity between John Cooper and Flo Evans.
"So I will sit down and speak with particularly the family first of Flo Evans, to have those discussions with them, as to whether we should in fact have a look at the circumstances of her death.
"But, at this stage, I think it's too early to say whether we will be taking an active role in that."
It is believed that an inquest concluded that there were no suspicious circumstances surrounding Mr Evans' death.
Her niece, Jean Murphy, confirmed that her aunt - whom she described as an active, independent woman - was friendly with Cooper and his wife, and that Cooper would visit and do odd-jobs for her.
She claimed Mrs Evans never took baths, and that her aunt would not have had any hot water at the time of her death, as no fire had been lit in the kitchen.
Mrs Murphy said relatives had long regarded her aunt's death as suspicious.
BBC Radio Wales Eye on Wales special programme, is available on the BBC iPlayer for a week after its first transmission on Thursday, 26 May.