Swansea Premier League promotion prompts economic hopes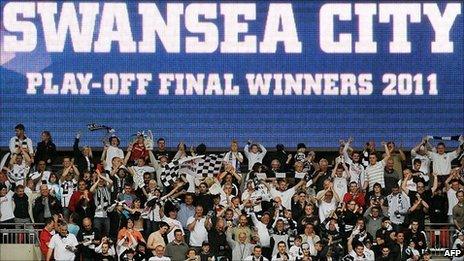 Swansea's promotion to the Premier League could boost the city's economy as it attracts thousands of new visitors to the area.
Blackpool estimates its season long stay in the top flight brought about £30m of extra business to the resort.
There are hopes a similar sum can be achieved in Swansea, where tourism was worth £317m to the economy in 2010.
But one expert on the economic impact of major sports events has questioned its actual effect.
While Monday's play-off win at Wembley is estimated to be worth around £90m to the club, its value to the city as a whole is much harder to quantify.
Tony McGetrick, chairman of Tourism Swansea Bay, said he was sure it would boost businesses.
"Every other week throughout the season Swansea is going to be promoted on the most watched football league in the world," he said.
"It's fantastic advertising you could not pay for because it's a completely new market of people."
He said he was confident many away supporters would make a weekend of it by staying at least overnight and was sure they would base themselves in Swansea, rather than other cities such as Cardiff.
"There is also a feelgood factor that has many benefits as success breeds success," he added.
But Dr Calvin Jones, of Cardiff Business School, is much more cautious.
"What I am not saying is that there will be no impact," he said.
"What I am saying is that anybody expecting this to change Swansea is probably expecting too much.
"The fortunes of cities, let alone regions, and the fortunes of football clubs don't show much relation.
"Obviously we will have the gates and more media exposure of a particular kind, but very rarely on more than a patch of green land."
He added: "There are very few teams and cities that have gone to the bother of genuinely trying to find shared objectives.
"It doesn't really happen very much that there are thought-through strategies that cities make the most of sports teams and sports teams make the most of cities.
"It's brilliant that they went up, but as an economist it's hard to see much benefit really."
He said unlike rugby supporters, football fans were not encouraged to spend time eating and drinking when they travelled away.
A Cardiff Business School study of the 2006 Heineken Cup final at the Millennium Stadium between Biarritz and Munster found fans stayed an average 2.8 nights in Cardiff.
Dr Jones said: "The vast majority of people come to watch football - it's a day trip."
The North and Western Lancashire Chamber of Commerce said the past season in the Premier League had been worth about £30m to the economy of Blackpool.
Elsewhere, Portsmouth dropped out of the top flight a season ago, and Maureen Frost, director of operations at the city's chamber of commerce, said while they had no figures on the cost to the area of relegation, they had seen a difference.
"Being in the Premiership seemed to bring a feel good factor and confidence to the city," she said.
She said many away supporters would travel to Portsmouth by train, often bringing family members with them who would then visit the tourist attractions, shops and restaurants rather than go to the match.
"The club is also spending less," she added.
"It is still a real part of the community but that has a knock-on affect on a number of small local businesses - for example, printers as they do not need as many programmes."
Meanwhile politicians have used Twitter to proclaim the benefits of Premier League football.
Welsh Government Regeneration Minister Huw Lewis said: "Well done to Swansea! Great news for the whole of Wales."
Shadow Welsh Secretary Peter Hain said the "whole country will reap the benefit of top flight football coming to Wales" and that it was "great news for [the] local economy struggling under terrible Tory-Lib Dem anti-growth policies".
But Plaid Cymru AM Bethan Jenkins criticised him for "making a win for Swansea political."
Related Internet Links
The BBC is not responsible for the content of external sites.