Four Paws fostering network wins Dog Trust award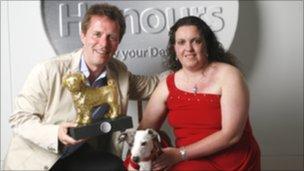 A woman who sacrificed her career to set up a foster network for dogs has won an award.
Kirsty Thomas, 29, a former veterinary nurse trainee, set up Four Paws to save dogs from being put down or kennelled.
The network of between 40 to 50 volunteers take in abandoned animals, until permanent homes can be found.
Ms Thomas, of Abercynon, Cynon Valley, said she was shocked to win the award from the Dogs Trust: "I see myself as just an ordinary animal loving person."
It is the fourth year that the Dogs Trust has held the award ceremony to celebrate the difference dogs make to people's lives.
Award winners were chosen by a judging panel that included celebrities such as actor Martin Freeman, TV and radio presenter Graham Norton, and comedian Miranda Hart.
Ms Thomas had the idea for the foster network, which works mainly in south Wales, while training as a veterinary nurse, after being concerned about the welfare of dogs that were being put down or kennelled.
She eventually stopped her training to focus on running the charity full time.
"Four Paws has taken over my life." she said.
"When I first set up Four Paws I never imagined it would get as big as it has got."
The charity mainly works with local authorities to take in dogs that councils would otherwise have had to put down.
Costs, such as medicines and vaccinations, are funded by donations from the public.
Ms Thomas praised the people who looked after homeless pets for Four Paws Animal Rescue.
"Everybody does it for the love of the animals, nobody gets any salary, it's all voluntary."
"We welcome all types of people, whether it's people who can volunteer for a short-term, or for a longer term."
Ms Thomas said although she hoped to one day resume her veterinary nurse training, her charity's work was most important to her.
"Four Paws is my life; that's the way it's going to stay. I'm committed to it and I'm in it to the end.
"If just one dog is saved from being put down through no fault of its own, it's worth it."
Related Internet Links
The BBC is not responsible for the content of external sites.