London 2012: Megan Lewis in pony trek from Beijing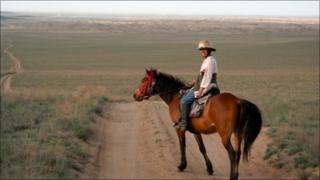 A Welsh pony breeder is riding on horseback from Beijing to London in time for next year's Olympic games.
Megan Lewis has so far travelled 5,000 miles and has just reached Europe.
The 62-year-old from Pumpsaint in Carmarthenshire has borrowed and traded horses for her journey including one she rescued from a meat market.
She broke six ribs in a fall shortly after setting out and has encountered snakes and scorpions but is confident of reaching London next year.
Mrs Lewis started the trek following the 2008 Olympics in China.
Accompanied by members of Chinese Equestrian Association, who also provided her with a horse, it took her five months to cross the country.
"You see quite a lot other people don't get to see," she said.
"We stayed in small hotels, houses, truck stops. I fell off 10 days after leaving Beijing and broke some ribs and had to go to hospital.
"Apart from that it was all pretty easy, the Chinese police were incredibly helpful and having the backing of the equestrian association really helped."
Dry land
Arriving in Kazakhstan she had to secure a new ride and bought one horse from an usual source.
"He was at the meat market and was bound for sausages," she added.
"I'm not quite sure why. I think he might have been a bit of problem but we seemed to rub along ok."
For much of that section Mrs Lewis was joined by her cousin.
"It was quite a lot of dry land, desert and semi-desert then across the steppes for the last two and half to three months.
"I was warned about the wolves and bad people but everybody was extremely friendly and we never saw a wolf just a few snakes and scorpions."
She aims to arrive at the 2012 Olympic equestrian venue at Greenwich Park in London next June.
Having reached the border between Kazakhstan and Russia she has flown back home for two months before completing her challenge.
"I've always been a rider and always wanted to do some sort of long ride," she said.
"I think I've always had a leaning towards Asia because I was brought up in the Far East.
"Then with the Olympics and Beijing to London . . . I always thought if I could cross China I could do the rest."
Mrs Lewis is raising money for the charity Schoolchildren for Children, which raises money for disadvantaged children through exercise and activity and is run by her husband.