Swansea city centre in 'dire' state, claim traders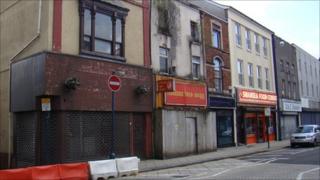 Wales' second city Swansea is in a "dire" state with road works, high rent, parking and drugs being blamed for problems in its centre.
Swansea's profile will be raised globally from August as the city hosts Premier League football, worth millions of pounds in tourism and trade.
Criticisms by city traders has been backed by Swansea councillors who are urging a report proposing action.
Swansea council said it would propose "some short-term solutions" soon.
"The situation is dire," said Mike Jones, secretary of the Federation of Small Businesses in Swansea Bay.
"We really are at the wall. There are three or four businesses going to the wall every month.
"It's a combination of issues that really need a strategic plan to deal with and we've asked the council to come up with a strategic plan to address things.
"Our main aim is to have a regeneration project for the city centre.
"The council needs to be more transparent and we need to all sit around the table. It needs to happen within the next month."
Struggle
Swansea has struggled to find a way of successfully regenerating the city centre following the collapse of the long-time proposed Castle Quays development in 2004 which suffered several false starts.
It also lost the David Evans department store with the resulting shopping centre built on the site still not fully let, although the Salubrious Place project at the bottom of Wind Street has been successful.
The SA1 waterfront development on the east of the River Tawe and the 29-storey Meridian Tower block on the seafront are thriving, as are out-of-town complexes in Fforestfach and Morfa.
But what has added to Swansea's city centre retail problems is the opening of the £675m St Davids shopping centre in Cardiff two years ago which attracted 36m visits in its first year.
Mr Jones said that was not the only issue.
He pointed to the continuous road works in the city centre making matters worse.
He said work to accommodate the bendy bus, particularly on the Kingsway, cost people their businesses, both during and after it was completed.
The current works on the European-style boulevard along the Oystermouth Road corridor - the main gateway into Swansea - which aims to link the city centre to the waterfront, has put off a Neath bus firm.
Bluebird Coaches runs a trip from south Devon to Pembrokeshire and used Swansea as a stop-off but now uses Neath or Carmarthen instead.
"We accept there will be disruption with road works but it's the volume," said owner Ian Warren who said delays affect drivers' compulsory break times and connecting services.
But he added: "We bring visitors into Swansea on a Friday and if they like, they will come back, but if they are sitting in traffic for hours on end, they won't return.
"I want to get back into Swansea."
Mr Warren believes that Swansea City FC's promotion to the Premier League should be used as a catalyst to get things moving.
But Mr Jones added to Mr Warren's concerns over traffic highlighting that traders are also unhappy with the insufficient amount of short-term parking.
"Not safe"
"The shoppers can't get into town and there's no parking where they need to be parking," he said.
"The trend is to drive people to the out-of-town shopping areas and because there's less footfall in the city centre, these shops have gone to the wall."
One of Mr Jones' biggest concerns though is another gateway into the city centre.
High Street, which runs from the train station to Castle Street, is badly run down and suffers from drug taking and dealing, drinking and antisocial behaviour.
"High Street is one of the worst areas," he said. "It's a significant problem.
"I wouldn't recommend anybody who walks from the railway station anywhere after 5pm. It's not being sensational, it's not safe."
An original notice of motion, put forward by Swansea councillors, wants leader Mr Holley and chief executive Mr Straw to deliver a report within four weeks at an extraordinary meeting.
They want to see what steps could be taken in the immediate, medium and long term to support independent retailers in Swansea.
A Swansea council spokesperson said: "We appreciate concerns about the city centre but will soon propose some short-term solutions to help traders.
"But in the long-term the boulevard scheme between the LC (leisure centre) and the river bridges will improve access to the city centre and accommodate more traffic in future.
He added: "The rise of internet shopping and out-of-town shopping centres have affected most city centres but we have invested millions alongside our partners in recent times to help traders."