Rape arrest over Tenerife attack on south Wales tourist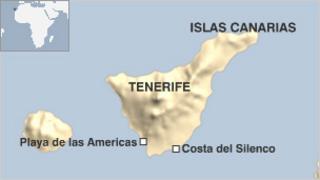 A man has been arrested in Tenerife in the Canary Islands by detectives investigating the alleged rape of a young woman from south Wales.
She was found wandering in a dazed condition at 0300 on Tuesday morning at Playa de las Americas.
The woman told police she was attacked by two French men after she accompanied them to a beach after they offered her drugs.
The arrested man is a 22-year-old French national.
The woman told police she quickly lost consciousness when the two men gave her something to drink.
She said that when she came round she realised she had been raped.
Officers found she was holding the identity card of one of her alleged attackers.
It is claimed it had been used to cut cocaine.
The National Police traced the card owner to Costa del Silencio where he was arrested.
Police said they were still looking for his companion.
The girl was given first aid treatment at the scene and has not been admitted to a local clinic.