Trimsaran residents 'trapped' in steel-framed homes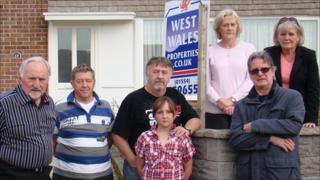 People who bought ex-council houses on an estate in Carmarthenshire claim they are "trapped" in virtually unsellable properties due to structural problems.
The steel frames in the 1960s houses in Trilwm, Trimsaran, are corroding.
Residents were told they would be included in a repair scheme but say it has been scaled back as the money is no longer available.
Carmarthenshire council said it was committed to helping them subject to available resources.
The houses were built by the old Llanelli Borough Council in the early 1960s for miners working at Cynheidre Colliery.
Lynn Jones, a community councillor, said 61 were now in private ownership including his own and another 40 let to council tenants.
"Some of the houses have cracks, there is blistering on walls, some are damp where the water is coming in," he said.
"Because of the steel the mortgage companies will not touch them.
"People are suffering from stress, depression and anxiety."
His wife Gail said they bought their house from the council in 2004.
"We are in a position where we want to sell but cannot do so," she said.
A structural report prepared for the council states the problems with the steel frames were discovered in 2007.
Mrs Jones said: "Even if we accept the council did not know anything about the steel work until 2007 we are now in 2011 - four years have passed."
Gordon Hewett said his home had been on the market for four years.
"We paid £78,000 - it's cost £100,000 with the work we've done. It's our life savings."
Residents say one house has sold on the estate this year to a cash buyer for around £50,000.
The council's structural report says as well as the problem with the steel frames the houses are badly insulated.
Steve Clarke of the Welsh Tenants Federation said some tenants were paying up to £60 a week during the winter to heat the homes - around three times what he would expect.
He said it may account for the unusually high number of empty houses he saw when he visited this week.
Mr Clarke said insulating the homes should be a priority.
The council sent letters to all those affected in March stating Trilwm was to be included in a group repair scheme to improve housing conditions in the lower Gwendraeth Valley.
It was to include steelwork repairs and optional work on insulation, the roofs, windows and doors.
But residents say they have since been told some of the funding is no longer available.
In a statement the council said it was still committed to helping residents with repairs.
"We have met with residents on the Trilwm estate on several occasions and have been in regular correspondence," it said.
"We have reiterated our commitment to supporting all homeowners on the estate and to assisting them with home improvements subject to available resources.
"As such, we are arranging visits to all owner occupied properties in Trilwm over the next few weeks to collect further details and explain the proposed group repair scheme.
"This scheme will initially focus on steelwork repairs to properties. It is hoped that other optional works could be completed if further funding becomes available."