Swansea council chief rejects 'unfair' claims over city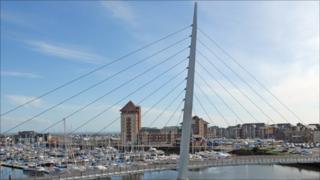 The leader of Swansea council has said claims that the city centre is in a "dire" state are "unfair".
City traders blame road works, high rent, parking and drugs for problems in Wales' second city and councillors want action.
Swansea's profile will be raised globally from August as the city enters football's Premier League.
Chris Holley said they are trying to deal with the city centre and those who only want to complain are a "disgrace".
"The fact that Swansea will have a Premier League football team is brilliant news for the city and for the people in the city, and it's a great boost for morale," he said.
"I wonder why people want to knock the city when morale is great.
"The Swans got there on their own without anyone pumping millions of pounds in. How we regenerate into the local business is something that we are actively looking at now.
"I don't think it's going to be as easy as people think."
He added: "We've been looking at how we deal with the city centre for the last 18 months and this (Swansea City's promotion) is an added incentive.
"There are one or two things we can do and we are doing. It's not that we haven't done anything for the last couple of years.
"We are increasing the amount of activity in the city centre."
Mr Holley admitted there were "a number of problems" with the city centre but said some were related to the current financial climate and the "reality" is that Swansea is no different to any other UK city.
He said rundown High Street, which suffers from drug taking and dealing, drinking and antisocial behaviour s going through a "major restoration".
He also blamed the out-of-town shopping centres like Fforestfach and Llanelli's Parc Trostre, as well as the £675m St David's shopping centre in Cardiff for the drop in shoppers across the city centre.
But Mr Holley added the focus should not solely be on retail, instead finding other ways of bringing people into city centres which have to "evolve".
And he hit out at an "element" of people who he says only want to complain.
"There are politicians who don't want to see the city be successful," he added.
"It's a crying shame when local politicians are not sticking up for where they live.
"I think that's a disgrace. If they had any ideas, why haven't they all come forward with them."
Mr Holley also defended road works in the city centre, in particular the Oystermouth Road corridor, which is the main gateway into Swansea and often suffers from traffic jams.
The latest work along that route is the development of a European-style boulevard along which aims to link the city centre to the waterfront.
"We have one of the busiest roads in Wales," he said. "Anything that happens on that road you are going to have problems with.
"There's only that one road from east to west and we are trying to find ways of making it quicker."