Swansea tyre fire progress but fight 'could take weeks'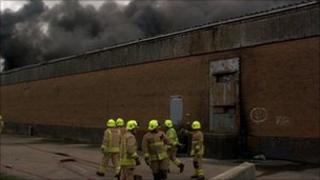 Firefighters who have been battling a tyre blaze since Thursday predict it could be weeks before the fire is finally out.
Officers are making good progress at the old Mettoys factory in Swansea, which is used to store shredded tyres.
Crews have begun cutting holes in the outer walls to remove the burning materials from within.
Ystrad Road, Bruce Road and Kingsway have been re-opened but non-essential traffic should avoid the area.
Emergency services have been at the scene in Fforestfach since the fire was reported at 1305 BST on Thursday.
Approximately 5,000 tonnes of shredded tyre waste had been deposited at the premises and the cause of the fire is under investigation.
Mike Crowley of the Mid and West Wales Fire and Rescue Service said: "We have made very good progress since Thursday.
"The fire is under control and there is no risk of the fire spreading.
"The material is very difficult to fully extinguish while it remains in the building.
"The most effective way of dealing with it is to remove the material in small sections and extinguish it outside.
"Having breached the outer walls of the building the next phase is to remove the waste materials in small sections . . . due to the amount of material on fire it will take several weeks to remove and fully extinguish it."
Queensway, the road on which the factory is located, still has restricted access although emergency services are assisting local businesses to gain access to their premises.
A nearby Park and Ride service remains suspended.
Public health experts have reiterated advice to residents and businesses in the area.
Lika Nehaul, consultant in communicable disease control at Public Health Wales, said: "Air quality measurements from near the scene of the fire show that the concentrations of pollutants in the smoke have the potential to irritate eyes, nose and throat and cause an impact on health if inhaled.
"There is greater potential for health problems in people with existing chest and lung problems such as asthma, chronic bronchitis and cardiac problems including angina.
"Our advice to local residents and visitors to the area is to minimise exposure wherever possible by staying indoors and closing windows and doors."
A serious incident room has been set up at Swansea Civic Centre.
Swansea council's environment director Reena Owen said: "It's inevitable that there will be disruption to the local community and businesses but our aim is to minimise the impact as much as possible."
A further update is expected on Monday.
Environment Agency Wales has deployed booms and other pollution control equipment to minimise pollution at Fforestfach Stream.