£39m Mumbles Pier waterfront homes decision backed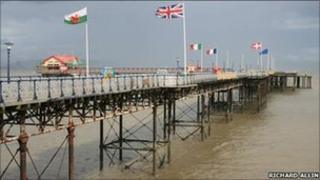 Controversial plans for a £39m retail and residential complex at the waterfront by Mumbles Pier in Swansea have been backed.
The owners say the only way they can afford the £3m needed to save the pier is by developing the site.
But the proposals have divided opinion, with some claiming it is a "gross overdevelopment", while others say new business is badly needed.
Swansea council planning officers had recommended approval.
The outline application consists of residential flats, retail units and restaurant, a new pedestrian boardwalk, a redevelopment of the pavilion and a six-storey building that would either be a 70-bed hotel or more apartments.
The pier dates back to 1898 and has been owned by the Bollom family for 70 years.
Ruin the landscape
They say without major refurbishment that will cost in excess of £3m it will become unsafe and close in the next few years. Part of the restoration includes a new RNLI lifeboat station.
The foreshore development is intended to cover the cost of the work.
Fred Bollom said: "After 20 years of looking for a solution to the pier's problems in maintaining it and re-building it for the next generation, we looked at disposing our land at the base of the pier that we own, in order to plough that money back into the pier.
"The problem is the value of that land isn't great enough to cover the cost of the reconstruction, so we've looked to get planning permission to build a hotel and apartments to sell off to developers in order to use that money to restore the pier."
However, two petitions signed by 1,385 and 712 people, along with 111 letters of objection, were submitted to the council.
A special planning meeting in Swansea's civic centre voted to approve the plans.
Opponents say the complex would ruin the landscape in what is an official Area of Outstanding Natural Beauty.
The Countryside Council for Wales, Mumbles Community Council, Gower Society and Open Spaces Society have also objected.
Community councillor Roger Beynon said: "Basically, the development proposed is totally out of keeping and scale with anything else in the area.
"It will envelop the headland in a rash of essentially two blocks of high-rise flats."
He said the area was the "iconic headland view," and "logo" of Swansea Bay.
Mr Beynon said after the decision he was still hopeful the project would be called in by the Welsh Government, saying the "sheer scale was out of all proportion" to the location.
There have been four letters of support and there is a Facebook campaign, with more than 900 backing the scheme.
Supporters say Mumbles is in desperate need of regeneration with many businesses struggling and it would help boost tourism.