Doctor Who Experience heading for Cardiff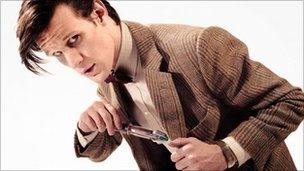 Cardiff council has backed plans to bring a major Doctor Who exhibition to the city.
The Doctor Who Experience, currently in London, features sets, props and memorabilia from the BBC Wales series.
It will relocate from from London's Olympia to a new council-built home in Cardiff Bay early next year.
A report for the council said it could attract 250,000 visitors a year and be worth £13m annually to the city's economy.
The council will receive £2 from every ticket sold in a bid to recoup its costs.
The proposals were examined by the council's executive on Thursday.
The exhibition will be housed in a new home in Porth Teigr in Cardiff Bay, right next door to the BBC's new Roath Lock Studios where Doctor Who will be filmed from next year.
Projections from leisure and tourism consultants Stevens & Associates also estimate it would help bring 40,000 new overnight tourists each year, worth some £7m, and support over 200 full time equivalent jobs in the city.
The Doctor Who Experience opened in London in February and has already proved to be a huge success with fans of the series from all over the world.
It is the largest exhibition ever assembled of sets, props and memorabilia from the series, including items never publicly displayed before such as original costumes, a full scale recreation of two iconic TARDIS sets and numerous monsters.
The Council is working on the project in partnership with BBC Worldwide, who will be responsible for fully fitting-out and operating the exhibition.
Council leader Rodney Berman said: "Cardiff has become established as the home of Doctor Who and bringing the new Doctor Who Experience to Cardiff Bay is a fantastic opportunity for the city.
"It will bring millions of pounds into the economy and the benefits to Cardiff will be immense in terms of tourism.
"I think visitors will be especially excited to be able to visit the Doctor Who Experience right next door to where the series is filmed."
Related Internet Links
The BBC is not responsible for the content of external sites.