Boy praised for raising alert as kayak swept to sea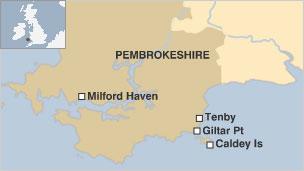 A 12-year-old boy has been praised for phoning the coastguard from his kayak after he and a friend were swept out to sea off Pembrokeshire.
He and a friend had been paddling in a kayak pushed by his father off Giltar Point near Tenby when the weather changed.
Coastguards received the call at 1438 BST Sunday and sent the Tenby inshore lifeboat and coastguard rescue team.
A fishing boat also answered the alert and quickly brought the group to shore.
They were checked over by the coastguard rescue team who said they didn't need medical treatment.
Barry Skidmore, watch manager for Milford Haven coastguard praised the boy's quick thinking.
He said: "We were very impressed with the calm, informative call made by the 12-year-old boy when he phoned for help.
"He did absolutely the right thing by calling the coastguard when they got into difficulty, and the group had followed safety advice by wearing lifejackets and taking a mobile phone which allowed them to raise the alarm.
"We would also like to thank the crew of the Stephen William who responded immediately to our broadcast.
"Their quick response ensured the group were not swept out any further and were brought ashore safely within minutes of their call for assistance."
Related Internet Links
The BBC is not responsible for the content of external sites.