Pembroke power plant permit wildlife fear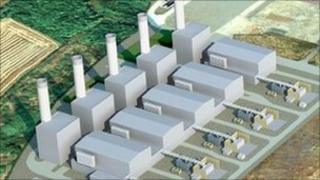 Environment campaigners claim a proposed water cooling system at a power station being built in Pembrokeshire would damage marine life.
Friends of the Earth Cymru (FoE) say heated water from RWE npower's plant in Pembroke will go into the Milford Haven waterway.
It has urged the Environment Agency should refuse a permit.
The agency said it had carried out a thorough assessment and all views would be taken into account.
It has previously said it is likely to grant the permit subjected to consultation that has just closed.
RWE npower says the gas-fired power station will provide enough energy to power around 3m homes.
But FoE said waste heat generated by the power station could be used to power two nearby liquefied natural gas (LNG) terminals rather than entering the sea.
'Magnificent environment'
It claims fish and other species will be killed or harmed if the system gets the go-ahead.
Director Gordon James claims the agency has failed to carry out an adequate impact assessment and claims the permit would be "unlawful."
"The damage this cooling system would cause to Pembrokeshire's precious marine environment is completely unacceptable," he added.
"The heat generated by this power station shouldn't be wasted.
"Industry can exist alongside Pembrokeshire's magnificent environment - but we must use the best technology and the highest standards."
The Environment Agency said it had carried out a thorough assessment and had proposed tough standards in the draft permit to protect the environment.
Area manager Steve Brown said: "The Pembrokeshire Marine Special Area of Conservation is one of the most important and environmentally sensitive locations in Wales and we are committed to protecting it."
He said using combined heat and power was thoroughly explored by the company and reviewed by agency specialists but was not viable at the site at present.
The draft permit required then to make sure the power station was ready to capitalise on any such opportunities should they become available, he said.
RWE npower has also been asked to comment.