Fixtures fears over future of Ffos Las racecourse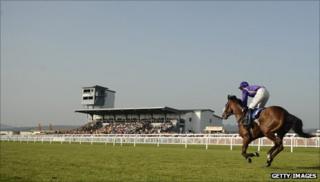 A Carmarthenshire racecourse's future is uncertain due to planned changes to next year's fixtures list, say bosses.
The British Horseracing Authority plans to cap fixtures in 2012 to 1,400, due to concerns about declining horse numbers.
Ffos Las racecourse near Trimsaran says it faces a potential drop from from 29 to 16 or 17 race meetings next year.
Course owner Dai Walters said it will not be economically viable to operate on such restricted fixtures.
In 2009 Ffos Las became the first new turf horseracing course to open in Britain for around 80 years.
The course was built on an old mine and had hopes to challenge some of the best courses in Europe.
Course manager Tim Long said he was "very concerned" over the BHA's plans for fixtures in 2012.
He said: "Ffos Las has brought horse racing to an area of Britain where there had been none previously.
"It has significantly boosted local businesses, increased employment directly and indirectly, and helped tourism.
'Considerable sums'
"The racecourse has delivered on all its promises to the British racing industry, becoming the first new turf track for the sport since before the Second World War.
"It is investing considerable sums to meet the prize-money requirements of the Horsemen's Group of racehorse owners, trainers and jockeys; and it is further developing horse racing in one of the remoter parts of the country."
Of 29 fixtures scheduled for 2011 at Ffos Las, 13 are funded by the racecourse itself rather than with any form of central funding for prize-money.
'Shelved'
"We can't run the track on just 16 fixtures because we've still got to employ all the groundsmen and staff as if there were 30 fixtures - it will just not be economical," owner Mr Walters told BBC Radio Wales.
"We are quite prepared to lose two or three fixtures but if it falls to 16 Ffos Las will have to be shelved.
"If they took one or two fixtures off everybody, it would be fair."
He added that Ffos Las stood to lose 30% of its fixtures because it is the newest racecourse.
At the start of June, the BHA suspended its 2012 fixture allocation process because of the uncertainty surrounding how fixtures would be funded due to the decline in levy funding.
The total number of fixtures is to be finalised by the end of September.
Ruth Quinn, director of racing at the BHA said the board had taken the decision as a bid to to protect the long term health of the sport.
"Although the size and shape of the fixture list cannot be finalised until the impact of the significantly reduced levy has been confirmed, we have taken this action to try to ensure that falling horse numbers will not erode the attractiveness of British racing, both as a sporting spectacle and as a betting medium.
Decline
"The process will involve removing a majority of the leasehold fixtures that had been agreed on a one-year only basis for 2011 between racecourses and horsemen, and we will continue to consult with stakeholders to ensure that the fixture slots that are removed will be those that are of the least value to racing.
"Horse numbers have been in steady decline since peaking in 2008 and, with the significantly reduced foal crops due to reach racing age, the sport cannot continue at its previous capacity."
The BHA said nearly 40% of races currently attract seven or fewer runners and cites recent research by Weatherbys which shows the decline in horse numbers is predicted to increase from 3.2% in 2011 to around 7% in 2012.