Mixed fortunes at Aberavon seaside as summer ends
By Nick Parry
BBC Wales News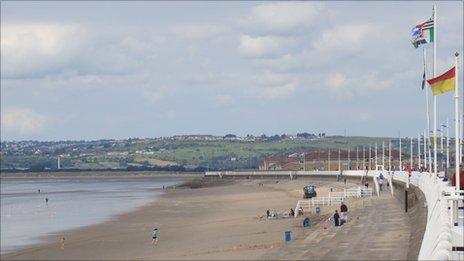 Much like the weather the fortunes of Aberavon seafront near Port Talbot have been changeable.
On the final day of summer there was a healthy number of people walking, jogging and cycling along the promenade.
Some families were on the beach building sandcastles and playing ball games while a few children braved the sea despite the less than balmy temperatures.
But it was a far cry from Easter when literally thousands of people descended on the seafront to watch Michael Sheen's Passion Play that gave the tourism season an early and significant boost.
Traders say the season has been up and down since then.
Paul Jones of Cafe Remos on the seafront said they had seen a good influx of tourists.
"They've said they enjoyed it and there's a lot to do. There's the skate park, the playground and the children's splash pool."
The beach gained its first Blue Flag in 2008 and has retained it ever since.
"It's a lovely beach. It is cleaned everyday. I think it [Blue Flag] has helped," added Mr Jones.
He said businesses on the seafront were very much dependent on the weather and the problem this year was it had not always been very good.
It is a lack of indoor facilities on rainy days that inspired a group of residents to call for more investment in the area - particularly the Neath Port Talbot council-backed development called Hollywood Park.
Aimed at attracting investment to the seafront it is home to a six-screen cinema which was doing a good trade on Wednesday morning.
But a bowling alley that was set to open five years ago never did as its operator ran into trouble and the building has never been used.
A drive-through burger bar shut two years ago, a Chinese restaurant followed and a large area of land is fenced-off awaiting development.
Perhaps most damaging was a fire at the neighbouring Afan Lido sports and swimming complex that has left the attraction out of action since December 2009.
The council has pledged to replace the lido but Julia Rees, who is behind an online petition calling for greater investment, says some people are unhappy at the delay.
"One side of the beach looks fantastic then there's the Hollywood Park side which looks run down," she explained.
"A lot of residents are fed-up because there's nothing for children to do on rainy days - there's the cinema but apart from that you've got to go Swansea.
"The bowling alley never opened and the restaurants are boarded up."
Gareth Nutt, head of regeneration at Neath Port Talbot council, said the regeneration of the seafront had progressed despite difficult economic conditions in recent years.
"The council meets regularly with businesses along the seafront who are complementary about the beach and are positive about future trading," he said.
He said there had been substantial investment in the seafront to secure Blue Flag status.
This included new railings and new lighting along the promenade, improved disabled access, new seating, signage and street furniture.
There was a new skateboard park, children's play area, Aquasplash, new public toilets and piazza, two new surfaced car parks as well as landscaping and public art sculptures.
"Work is also about to begin on upgrading the sunken gardens and making them an attractive feature," he added.
"The council recognises that the privately owned vacant buildings have a negative impact on the seafront and is working with the owners to improve the area."
Mr Nutt said last month Aberavon Beach received an award from Netmums.com as one of their favourite free places in south West Wales.
"We realise there is more work to be done, but hope that there is recognition of the work and investment carried out by the council so far."
That is the case for Sandra Cook and her family who were on the beach on Wednesday.
"I remember coming here as a kid and we were only just saying how clean it is and what a good job they've done," she said.
"Just look at the children playing down there - they are as happy as Larry."
Related Internet Links
The BBC is not responsible for the content of external sites.