Tenby Ironman road closure complaints in Pembrokeshire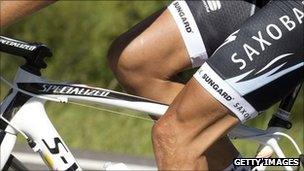 Some businesses are unhappy at road closures in Pembrokeshire later this month for the Ironman Wales triathlon.
About 70 miles of roads will close for up to seven hours on 11 September for the Tenby-based event.
Organisers say they have worked with residents and businesses to minimise disruption and accommodate their needs where possible.
But some say they could lose custom or have difficulty responding to emergency call-outs during the day.
Estelle Burton, who runs a locksmith business with her husband, said she had been told that sections of her road, the B4314 running between Narberth and Red Roses, would be closed.
"We are emergency cover for the whole of Pembrokeshire," she said.
"Any of these road closures are obviously going to impact heavily on our business because... if we can't get access from our drive we can't reach these emergency cases which require us to attend.
"It's not just us. Our neighbour here is also on emergency call-out for dairy installations.
"If they have a breakdown on one of the milking farms they are contracted to be there within two hours."
Up to 10,000 spectators are expected in Tenby and the surrounding area to see about 1,500 competitors from all over the world compete.
The event involves a 2.4 mile swim, 112 mile cycle ride before a 26.2 mile marathon, without a break.
Kevin Stewart, managing director of Ironman in Britain and Ireland, said disruption would be kept to a minimum but road closures were necessary to ensure the safety of competitors.
"There will be access through crossing points in some locations.
"There's also alternative routes for large sections but obviously there will be parts that are on the course itself where it simply would not be safe to have vehicles travelling up and down."
He said they were working with local businesses and doing everything possible to accommodate their needs.
The county council said notices had been posted along the road route, information leaflets delivered to the many businesses, and resident and community meetings held during the build-up.
A spokeswoman said: "It is inevitable that the scale of this event and the restrictions associated with it will cause an element of disruption and inconvenience.
"However where businesses and residents have contacted the council with concerns about the road closures, both Ironman Wales and Pembrokeshire council have sought to work with them to resolve any issues."
The council has set up an interactive online map so that residents and visitors can see which areas are likely to be affected by the event and when.
Related Internet Links
The BBC is not responsible for the content of external sites.