Funeral of Harry Patterson, 5, after driveway tragedy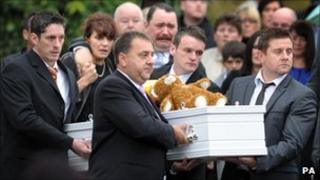 The funeral has been held of a five-year-old boy killed in an accident in the driveway of his Swansea Valley home.
Harry Patterson suffered head injuries in the incident involving the family car at Alltwen, near Pontardawe.
The Reverend Martin Perry paid tribute to Harry as a "character".
About 150 mourners were inside St John's Church, Alltwen, and another 250 gathered outside as the service was relayed by loud speakers.
Tributes were also paid to the four miners who died at nearby Gleision Colliery last week, just two days after Harry's death, and a minute's silence was observed.
Harry's parents, Michelle and Christian, and his seven-year-old brother Dylan walked to the church from their home at the head of a large group of mourners.
Harry's favourite brown teddy bear was on top of the coffin.
During the service Kai Owen, Mr Patterson's best friend, said Harry had had a smile "which could melt your heart".
"His passion for life should be an inspiration for us all," said Mr Owen.
Inside the church, mourners watched a slide show and a brief video recording of Harry at home.
Pupils from Alltwen Primary School also sang the hymn You Shall Go Out With Joy.
The hearse carrying Harry's coffin was then taken on to a private service for family and friends at Margam Crematorium.
'A real individual'
Speaking after Harry's death on 13 September, Mr Patterson had described his son as "a real individual in the truest sense of the word".
"I think he would have grown up to be anything he wanted to be," he said.
"At the moment he wanted to be a chef and I'm sure he would have achieved that.
"He was a very happy child and when he did some school work recently he was asked to write down if there was anything that concerned him.
"He wrote down: 'Nothing' ".