Free parking during Llanelli town centre revamp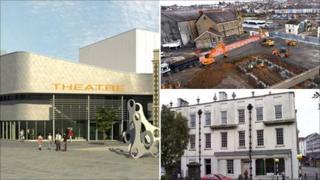 There will be free parking for a year in Llanelli to try to entice shoppers to the town centre while major regeneration works take place.
Work is due to start on a new theatre complex, cinema and retail area while the library and a listed Georgian town house are to be refurbished.
Carmarthenshire council said disruption would be inevitable.
To compensate there will be free parking at the town's multi-storey car park for up to four hours during 2012.
The council's executive board was told the concession would cost the authority about £222,000 for the year.
Council leader Meryl Gravell said over £50m was being invested in the town centre.
"That does come with some problems to the traders and some disruption," she said.
"We will try and encourage more people to come into the town centre and shop in the shops that are still there."
She said every effort would be made to minimise disruption by phasing the works.
Work has already started on the £15m Eastern Gateway development that includes a 53-bedroom Travel Lodge, six-screen Reel cinema, pubs and restaurants, office space, shops, car park and a new civic square and bus station.
Funding is in place for a £14.6m cultural centre that will include a 500-seat theatre on derelict land next to Zion Chapel in the town centre.
Thriving town
Llanelli's central library is undergoing a £3.5m refurbishment while a Grade I listed Georgian townhouse is to become a community heritage centre.
Plans to restore the 18th Century Llanelly House have been in the pipeline for a decade.
The building featured in the first BBC2 Restoration series in 2003 but lost in the final.
Councillor Gravell said: "Llanelli in a couple of years will be thriving."
Councillors were told improvement works would also take place at the multi storey car park early in 2012.
Free parking will be available from 10am each day for up to four hours.
Meanwhile the council's executive board also agreed to suspended charges at all its town centre car parks in the county from 10am in the two weeks leading up to Christmas.
The free parking offer will run from 9 to 24 December.